Eminem Brands Khloe The 'Ugly Kardashian' In 'Berzerk'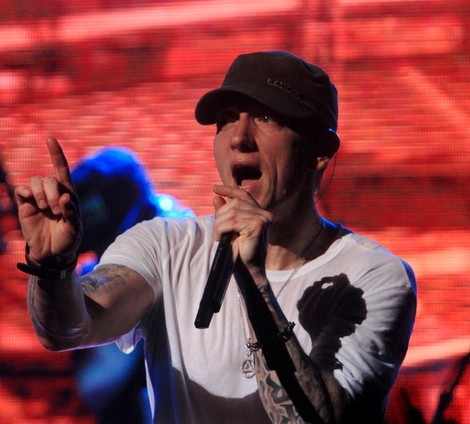 Eminem has mocked Khloe Kardashian, calling her "ugly", in his latest single Berzerk.

The 40-year-old rapper has branded the reality TV star the "ugly Kardashian" in his upcoming track taken from his album MMLP2, but the insults don't stop there as he also mock her husband Lamar Odom for marrying her.

He raps: "They say that love is as powerful as cough syrup and Styrofoam. All I know is I fell asleep and woke up in that Monte Carlo with the ugly Kardashian. Lamar O, sorry, we done both set the bar low."

Eminem is no stranger to firing insults at celebrities as he took a swipe at Khloe's sister Kim Kardashian in his 2009 track We Made You, where he refers to her as a man.

He sings: "Damn, I think Kim Kardashian's a man. She stomped him, just 'cause he asked to put his hands on her massive gluteus maximus again. Squeeze it and squash it and pass it to a friend."

However, the timing couldn't be any worse for Khloe as she struggles to save her marriage following rumors of her husband cheating on her with two different women while on the road as a basketball player and his alleged crack cocaine abuse.  

Additionally, Lamar was recently arrested on DUI charges in Los Angeles. The arrest report said he showed "objective signs of intoxication and was unable to perform sobriety tests as explained and demonstrated."