Emily Mortimer Cried Over Her U.S. Citizenship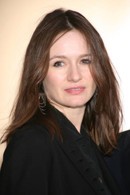 British actress Emily Mortimer cried when she officially became a U.S. citizen - because she was so relieved to complete America's tough immigration process.

The Harry Brown star moved Stateside a decade ago when she married American actor Alessandro Nivola, who is the father of her two children.

Mortimer was granted American status from immigration officials last year after she was grilled about the American constitution and had to undergo a series of mandatory health tests.

And she was so sick of the constant stream of questions and paperwork, she wept with relief when she finally got her citizenship.

Mortimer tells Britain's Daily Express, "I was very cynical about it and very sulking about it and very annoyed that I had to go through the whole thing. I cried at my naturalization ceremony."