Emily Maynard Meets The 25 Men Who Will Try To Win Her Heart In 'The Bachelorette' Season 8 Premiere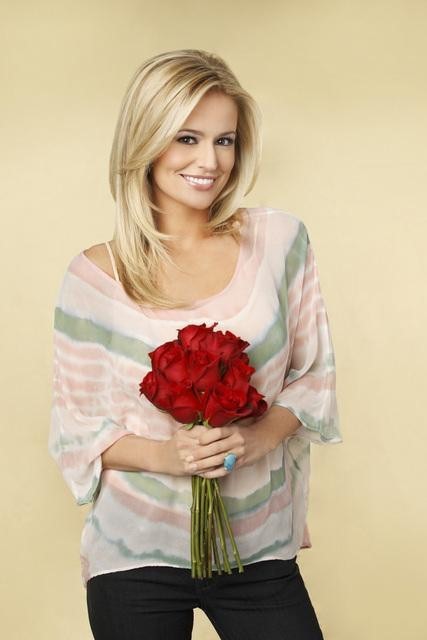 Bubbly, adorable and unlucky in love Emily Maynard is back this season as the new Bachelorette and we are hoping that she finally finds her Prince Charming. Twenty five men step up to the plate in Emily's home state of North Carolina to try and her heart, along with her daughter Ricki's. After the tragic death of Emily's ex-fiancé and her broken engagement to the former Bachelor, Brad, she is ready for lasting love. Although it seemed as though she was visibly upset when the relationship with Brad didn't work out, we have a feeling that she never really liked him as much as he liked her. We are rooting for you this time, Emily!
The men come from all walks of the world, Kalon from Dallas, Texas claims to have a few dollars in his pocket, Ryan is a pro- football player, Tony is a lumber salesman who also has a child- so this could work out for Emily…or not due to his extreme cheesiness. Lerone is a real estate consultant from LA who is willing to accept Emily's daughter right off the bat. Singer/songwriter David from NYC seems a little overwhelming as he already has a song written for her and Charlie the Tennessee also shares a tragic story who we have a feeling could be the frontrunner. Hipster Jef (yes, with one "f") seems a little too young and he may be skating off on the wrong wheel…hold up, CEO? Okay, never mind! That's all she needs is another race car driver, Arie- I guess it will bring a bit of drama to the show.
It is clear from the way Emily treats her daughter that she is a very caring person who wants nothing but the best for her family. She seems very hopeful that her future husband will be stepping out of the limo tonight and for her sake, we hope that he does. Although her ex-finance will always be a part of her and her daughter's life is seems like she is ready to move on and find a partner for life. Chris Harrison advises her thought, not to open up her introduction to the men with "I want to have a minivan full of babies."
It's time for the bachelors to meet Emily for the first time, face to face. As the limos pull up, it's apparent that the girl is nervous. The self-acclaimed hugger, Doug already caught our attention and shares a special moment with Emily, talking about his son. Fitness model, Jackson tries to wow her with a love quote but it all seems a bit awkward. We love excited Joe; he seems very genuine as he dances away into the mansion. Emily smirks as blue eyed beauty; Arie (who completed his eyes fantastically with that blue shirt) steps out of that limo. As the Brazilian that resembles a lady pulls up, Emily thanks him for coming by saying "gracias" but we hate to break it to her but Brazilians speak Portuguese, not Spanish. We have no words for Stevie, the Party MC aka the Leprechaun break dancer. No words. Dear Tony, your name is not Charming, so knock off the cheesy Cinderella references.
Creative Randy? By dressing up like an old woman? Hmmmmm, you could have come up with something better. We definitely like Nate, the accountant from Los Angeles- he is a cutie! You have all the time in the world aka the limo to think of a pick-up line and you all you can hatch is an egg? We don't think you will last long, Travis. Wow, we are charmed off out feet by mushroom farmer, Alejandro- and we hope Emily is too. How cute would their babies be? We thought that Lindzi had a crazy entrance as she met Ben on a horse, but Kalon finally makes his appearance stepping out of a helicopter- gag! Clearly none of the guys are big fans of him. Who will she give the first impression rose too? We are absolutely clueless.
We will give you a few points for creativity, Chris, but presenting Emily with a bobble head of herself and then acting out a scene with a bobble head of you is just weird. She seems to dig it though- whatever floats your boat Emily, or bobble head that is. It is absolutely heartwarming when Doug's son, Austin's letter to Emily is read aloud and almost brings her to tears. But who blew her away enough to get that first impression rose? Drum roll please…..it's Doug, yay!!!!
Chris Harrison interrupts their group chat and alerts them that is it time for the dreaded rose ceremony. Emily must eliminate a handful of bachelors tonight and send them on their way back home. Looks like Travis may have laid the golden egg at least for tonight…we can't wait to see what this season has in store for us.