Emily Maynard Is The New 'Bachelorette'!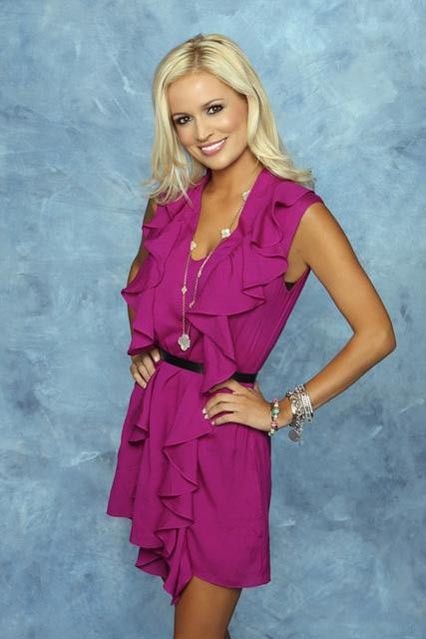 Last summer, Emily Maynard tweeted that she didn't "want to be the Bachelorette" on the then upcoming season of ABC's hit series of the same name - but that was just after appearing on the 15th season of The Bachelor, which culminated with an engagement to star Brad Womack. The couple went through a very rocky engagement and subsequent breakup just six months after filming ended (Emily accepted Brad's proposal in November 2010, but the public didn't find out until the show's season finale the following March), and Emily wasn't interested in putting herself through the whole process again.

"Right now my main focus is being a mom," she told People magazine. "I'm just like any girl dealing with a heartbreak. The last thing on my mind is to do this all over again…I'm done with all the media speculation. I want to move on and get back to normal."

Things turned sour for the couple once the show started airing and Emily got to watch how Brad handled himself with all the other women on the show, and by mid-2011 the couple officially split, despite trying to make things work.

At the time, Emily just wanted to go back to her normal life in her hometown of Charlotte, North Carolina; but now it seems she's had a change of heart, an insider tells Life & Style magazine.

"It's official, Emily is the new Bachelorette," the insider says. "ABC is even going to move filming to Charlotte. It won't be in L.A. at all."

Chances are Emily won't be finding love again, either, as neither The Bachelor or The Bachelorette's track records aren't very good...


The Bachelorette

Season 1: Success! Trista Rehn picked Ryan Sutter and the couple has been married for seven years.
Season 2: Meredith Phillips and Ian McKee failed to make it past a year of being engaged.
Season 3: Jen Schefft and nobody. None of the guys on season 3 were worthy enough for Jen.
Season 4: DeAnna Pappas and Jesse Csincsak were engaged for four months before it ended.
Season 5: Jillian Harris and Ed Swiderski lasted through a year of being engaged before splitting.
Season 6: Ali Fedotowsky and Roberto Martinez were engaged for 18 months.
Season 7: Ashley Hebert and J.P. Rosenbaum were engaged on May 13, 2011 and are still together! (J.P. wasn't her first choice though - she fell for contestant Bentley Williams but he walked out on her in one of the final few episodes of the show)
Season 8: Emily Maynard and Jef Holm (currently together)

The Bachelor

Season 1: Alex Michel and Amanda Marsh never got engaged and only dated for several months.
Season 2: Aaron Buerge and Helene Eksterowicz were engaged for two months before calling it quits.
Season 3: Andrew Firestone and Jen Schefft were engaged for 10 months before splitting. Jen went on to star in The Bachelorette season 3 (see above).
Season 4: Bob Guiney and Estella Gardinier were together for less than a month.
Season 5: Jesse Palmer and Jessica Bowlin dated for under a month.
Season 6: Byron Velvick and Mary Delgado - Almost! They were engaged for five years before ending their relationship.
Season 7: Charlie O'Connell and Sarah Brice didnt' get engaged, but they did date for five years before splitting.
Season 8: Travis Lane Stork and Sarah Stone didn't make the half-year mark and get engaged, they split after only six months of dating.
Season 9: Prince Lorenzo Borghese and Jennifer Wilson: see season 8.
Season 10: Andy Baldwin and Tessa Horst were engaged for three months before the ring came off.
Season 11: Brad Womack fell for both DeAnna Pappas and Jenni Croft, but proposed to neither.
Season 12: Matt Grant and Shayne Lamas ended their engagement after five months.
Season 13: Jason Mesnick and Molly Malaney - Jason actually proposed to Melissa Rycroft on the show's finale, but he had second thoughts during the reunion show and instead proposed to Melissa Rycroft. The couple have been married for four months.
Season 14: Jake Pavelka and Vienna Girardi split up after just a three-month engagement.
Season 15: Brad Womack and Emily Maynard struggled through six months of being engaged before giving in to the pressures and troubles.
Season 16: Ben Flajnik and Courtney Robertson, split after nine months being engaged.