Emily Maynard & Brad Womack Discuss Their 'Bachelor' Breakup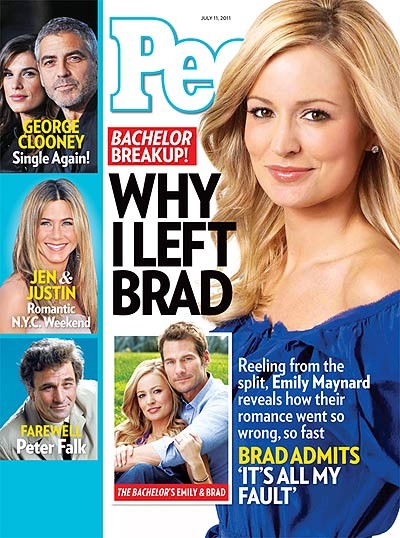 The last time Emily Maynard was in sunny Southern California, she was a contestant on the ABC reality dating show The Bachelor. That's where the Charlotte, N.C., single mom began a whirlwind TV romance with an eager-to-wed Brad Womack – a love affair that culminated in the Austin, Texas, bar owner popping the question on the show's season finale. In this week's issue of PEOPLE, Maynard opens up about the rumors that have dogged the couple for weeks: that she and Womack had broken up. "We're no longer engaged," she tells PEOPLE. "This was my worst nightmare. I thought there was no way Brad and I wouldn't work out."

For his part, Womack, 38, is also reeling from the breakup. "The demise of our relationship was completely my fault," says the former Bachelor. "I gave Em every reason under the sun to get out much sooner than she did. She hung in there with me much, much longer than she should have." Both say they tried hard to make their relationship work but that it had begun to unravel not long after their Bachelor season began airing last January. "Going through it, everything was very real for me," Maynard, 25, told PEOPLE in March. "Even when there were 30 girls, he still made me feel special. But then, watching it back, he had a tendency to say the same thing to a couple of girls. So I felt less and less special."

After the finale, photographers and camera crews followed Womack around in Austin and Maynard and her 6-year-old daughter Ricki in Charlotte. "I had photographers outside of my house waiting for me to go somewhere," says Maynard, who felt deeply conflicted about uprooting her daughter and relocating to Texas. "I thought, 'Oh, it will die down.' But it didn't."

The paparazzi "became a huge game-changer," says Womack, who experienced similar scrutiny during his first go-round as the Bachelor in 2007, when he famously didn't choose either of his final two potential suitors. "I failed [Emily] in the respect that I should have protected her." Angered by the tabloids, he sometimes directed his frustration at Maynard. In an exclusive statement to PEOPLE, Womack takes the blame for the breakup, saying he made "irreparable mistakes that cost me what I thought was a future with a woman that I love from the bottom of my heart." Womack says his temper got the better of him when rumors about the couple swirled on blogs and tabloids. "I would get so angry and would feel almost violated. I would keep those feelings bottled up, and by the time I had the chance to speak to Em…I would let that negative emotion come flooding out, and it was almost as if she was being attacked."

Also, the couple was coping with other major stumbling blocks, including Womack's inability to fully embrace the concept of being a 24-7 parent to Ricki. "He didn't understand why I couldn't go on a random vacation the next day," says Maynard. "It's hard for me to say, 'I am so tired, I want to go to bed at 8,' and for him to understand."

One thing Maynard won't be doing is signing on to the next Bachelorette. "Right now my main focus is being a mom," she says of the gossip that she'll star in the series. "I'm just like any girl dealing with a heartbreak. The last thing on my mind is to do this all over again…I'm done with all the media speculation. I want to move on and get back to normal."

And while she and Womack have called it quits, Maynard plans to keep in touch with her ex-fiancé. The two are still texting and calling each other. Could they ever reconcile? "I don't know," she says. "Right now I need a break from everything. I don't know what's going to happen in the future. I know that I love him, and more than anything he's been a friend to me…I think he's always going to be a part of my life." The feeling is mutual. "She was the one," says Womack. "She's the only woman I ever wanted to marry. I will always be in love with Em."


*Also In This Week's 'PEOPLE'*

Jen & Justin's Romantic N.Y.C. Weekend: "I Think It's Love. And She Deserves It," Says Source
George Clooney Single Again: "George Likes Being Independent," Says A Source
Farewell Peter Falk, 1927- 2011: "He Loved What He Did And He Loved Life," Says Paul Reiser
Stephen Moyer: "I Have A Set Of My Vampire Teeth From True Blood"
How Raven-Symone Lost 70 Lbs: "It's Great To Put On Clothes And Not Wear A Girdle"
All this and a whole lot more are in the new issue of PEOPLE, on newsstands everywhere now!  Or check out PEOPLE.com for more great stuff.