Elton John Wants Justin Timberlake To Play Him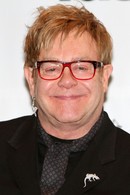 Elton John has named Justin Timberlake as his "number one" choice to star in his upcoming biopic.

The veteran musician is moving forward with plans to turn his life story into a major movie-musical with help from his film producer partner David Furnish and Billy Elliot writer Lee Hall.

The "Rocket Man" movie will tell the story of the star's life and career through his music and Elton has now revealed he wants pop star Timberlake, who previously played the singer in one of his music videos, to tackle the lead role.

He tells the Los Angeles Times, "(It is) very much in the works. We're making an announcement about that very, very soon. We have a director on board, and then it's just going to be a matter of getting the script exactly the way we want it...

"I've got a wish list of people (for the lead role). Number one on my wish list is Justin Timberlake, because he played me before in a David LaChapelle video... and was superb."