Elton John & Neil Patrick Harris Vacation With Their Partners & Kids In France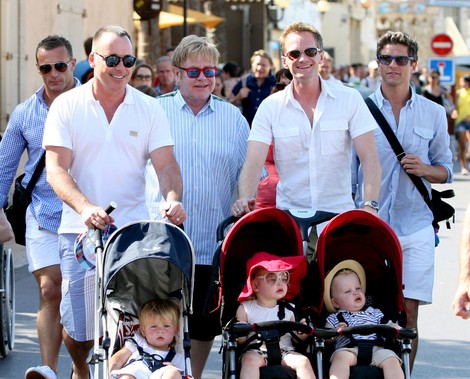 We spotted Elton John and his husband David Furnish hanging out with Neil Patrick Harris and his partner David Burtka in Saint Tropez, France, today.
Elton and David pushed their son Zachary in a stroller while Neil pushed his twins Gideon and Harper with his partner David. The happy families were smiling as they enjoyed their vacation seaside in the famous French riviera city.
Elton and David are reportedly expecting another child. The rumor is the couple is using the same surrogate who carried Zachary, and she is already carrying a baby brother or sister.
Harris recently confessed he knew he was gay when he was just six years old. He told Oprah Winfrey he dated women for a while, but it didn't feel right. "I did feel like it wasn't clicking like it was supposed to, and kept wondering, was it me?" he said.
See more photos of the two couples in France...