Elton John: 'I'm Sure I Did As Much Cocaine As Whitney Houston'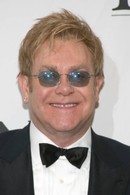 Elton John is convinced he would have died a premature and tragic death like superstar Whitney Houston if he didn't quit his drug habit when he did.

Houston, who had a long history of drug abuse, was found in her Los Angeles hotel room bathtub on February 11. Her death was recently ruled an accidental drowning, combined with the effects of heart disease and cocaine use.

The Rocket Man admits the tragedy really hit home for him because had been heading down a similar path of self-destruction when he finally managed to face up to his problems and turn his back on illegal substances in 1990.

In a candid interview with E! News correspondent David Burtka, the partner of close pal Neil Patrick Harris, the singer says, "I could have so easily ended up like Whitney Houston. It's a miracle I didn't. Because I'm sure I did as much cocaine as she ever did."

And the six-time Grammy Award winner is just glad he found the willpower to get sober.

He adds, "I would not be the person I am today (if I hadn't quit). I wouldn't have (my son) Zachary, (my husband) David (Furnish). I wouldn't have anything. I'd probably be dead."