Elton John & David Furnish Feel It Is Their 'Duty' To Marry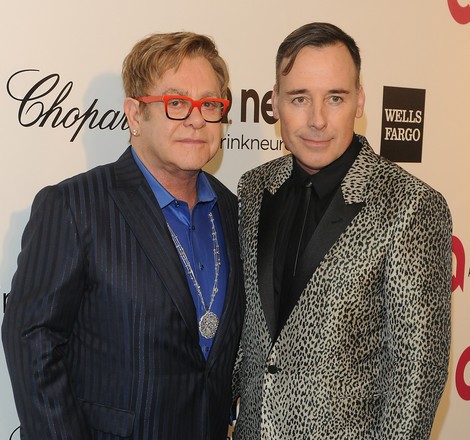 Now that same-sex marriage is legal in the UK, singer Elton John and David Furnish "feel it is their duty" to get married. In 2005, they were one of the first gay couples to enter into a civil partnership.
The couple has two sons Zachary, three, and Elijah, 14-months, together.
Furnish told Attitude magazine: "Elton and I will marry - as a high-profile couple, we feel it is our duty to do it, to make sure that everyone knows that this is something that many gay men living in this country never dreamed would happen. When it was announced that gay couples were able to obtain a civil partnership, Elton and I did so on the day it came into law. As something of a showman, [Elton] is aware that whatever he says and does, people will sit up and take notice -so what better way to celebrate that historic moment in time."
Furnish also pointed out the "massive difference between" the word "partner" and "husband" in a relationship.
He explained: "Elton and I both think there is a massive difference between calling someone your 'partner' and calling them your 'husband'. Partner' is such an impersonal word and doesn't adequately describe the love we have for each other.
"When Zachary and Elijah are grown up and having children of their own, they will - hopefully - be living in a world where everyone can be equal, when being married isn't about whether you're straight or gay, but simply about being human."
John turned 67 last week and celebrated his birthday with Furnish in Las Vegas, Nevada, during the grand opening of his new champagne lounge at Caesars Palace Hotel.