Elton John And David Furnish Both 'Contributed' To Baby Birth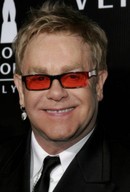 Elton John and his partner David Furnish have no idea which one of them is the biological father of their son - because they both "contributed" to the fertilization process.

The couple welcomed baby Zachary on Christmas Day via a surrogate mother.

They used donated eggs, from an anonymous woman, which were combined with sperm samples from both fathers - so they don't know which of them is the baby's true dad.

Furnish tells Britain's OK! magazine, "We both contributed. For the time being, we don't have a clue. We look at him every day and at the moment he has Elton's nose... neither of us care. He's our child."

Elton adds, "We have no clue, but in the end if he wants to know, we can do a DNA test."