Elton John And Billy Joel End Feud At Songwriters HOF -- Is A Tour Next?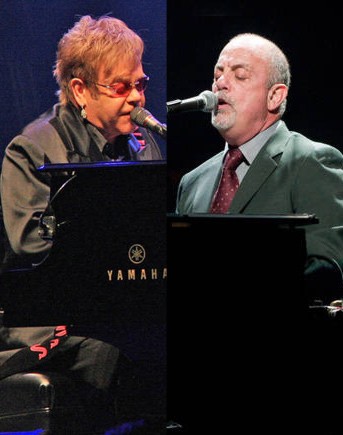 Piano men Billy Joel and Elton John have put their differences aside and ended their angst with each other since falling out two years ago.

During a 2011 interview with Rolling Stone magazine, Elton said that Billy wasn't taking his alcohol rehab seriously enough.

"He's going to hate me for this, but every time he goes to rehab they've been light," he said. "When I went to rehab, I had to clean the floors. He goes to rehab where they have TVs. I love you, Billy, and this is tough love."

"At the end of the day, he's coasting," the singer adds. "I always say, 'Billy, can't you write another song?' It's either fear or laziness. It upsets me."

Joel wasn't pleased with the comments and the two stopped talking. But in a recent interview in New York Times Magazine Joel hinted that he was over it.

"[Elton] tends to shoot off his mouth - he shoots from the hip. I think his heart is in the right place," the Piano Man said. "Maybe he's trying to motivate me, to get me mad or something. He's kind of like a mom."

John was honored at the Songwriters Hall of Fame ceremony in New York City Thursday night, and upon taking the stage to receive the Johnny Mercer Award he gave a message to his former pal.

"I didn't see you tonight Mr. Joel, but I want to see you," he said.

Joel took to the stage later in the ceremony to introduce Foreigner's Lou Gramm and Mick Jones, saying, "Is Elton still here by the way?

"Anyway, we're OK. Call me. It's the same phone number."

The two stars toured together on-and-off between 1994 and 2009, and Billy also recently said he's be up for hitting the road with Elton once again.

Aerosmith's Steven Tyler and Joe Perry, singer-songwriter J.D. Souther and John's longtime partner Bernie Taupin were also honored at the event for their contributions to songwriting; and Motown founder Berry Gordy was presented with this year's Pioneer Award.