Ellen DeGeneres Talks Hosting The Oscars, Coming Out, And Finding True Love With Portia De Rossi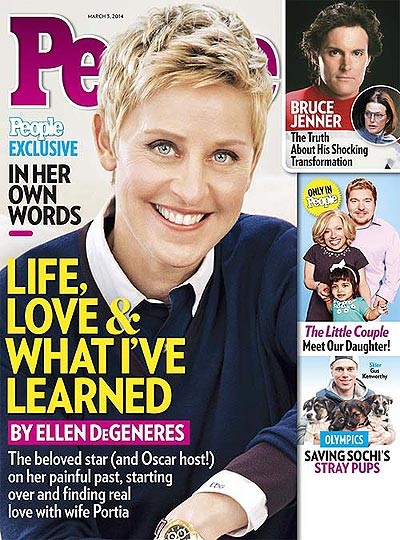 Oscar host Ellen DeGeneres, 56, shares with PEOPLE in this week's issue the ups and downs that have shaped her life: her painful past, starting over, and finding real love with wife Portia De Rossi.

Below is an excerpt of this week's PEOPLE cover story, in Ellen's own words.

On Hosting the Oscars:
"I'm hosting the Oscars – because it's a really terrifying thing to do. I thought, why not challenge myself? I'm comfortable right now, and it's never good to be comfortable as a performer. In real life, I like to be comfortable. I go home and literally put pajamas on immediately. Creatively I need to push myself. Hosting the Oscars is pretty much the scariest thing you can do. This is up there with bungee jumping...Portia's picked out her dress. I told my mom yesterday that she's going, and she's excited. My brother's writing with me. I'm not taking this lightly, and I want to do a good job."

On Coming Out:
"After I came out, I went through a really tough time. And that's okay. For whatever reason, it was a big deal for me to come out. To me, my coming out was the equivalent of if Liberace had come out. I didn't think it was going to be that much of a surprise. What hurt was this: Does that label, that word, change my talent, my kindness, my heart, my intention for entertaining people? I thought everyone knew me, and I didn't think that one little adjective was going to define me. I didn't have perspective at the time. The bottom line is as simple as this: My feelings were hurt. I just gave up and moved to Ojai and sat in my house as long as I could until I ran out of money.

Then I started over again. What I did, I want to say it was brave, because it was, but it was mainly for me. No human being should have to live with a lie or a secret that they feel bad or shame about. Coming out is not a big deal anymore. At the time, it was harder for Portia, and she paid some consequences for it for a while. Looking back, I did feel isolated, I did feel rejected, but now I look at it as a movie that I saw that someone went through. I only experience the amazing life I have right now."

On Finding True Love:
"The truth is, and this is corny, I fall more in love with Portia all the time. I really do. She surprises me all the time. She's always wanted to play the cello, so for her birthday, I bought her a cello and had it custom-painted piano black so it was sexier. I thought it would just sit in her office and look really cool, but she plays it every single day. She's so funny, really smart, talented and kind. I love her so much it kills me. What amazes me is that it never is boring. I make her laugh, but she really makes me laugh. It's what anyone experiences when you find that person that gets you, wants to take care of you, wants the best for you. We're really lucky because we know how rare it is. And honestly, we'd probably be great parents. But it's a human being, and unless you think you have excellent skills and have a drive or yearning in you to do that, the amount of work that that is and responsibility – I wouldn't want to screw them up! We love our animals."

On Animals:
"Some of the most helpful folks in my life have been animals. Animals are the closest thing to God. I was going to be a veterinarian, and the compassion I have for animals is from my earliest memories. The first bird I saved was a mockingbird when I was around 7 years old. All these kids were giggling and poking it with a stick, and it was covered with ants. It had fallen out of the nest, and I took it home, and it grew up to be a full, grown-up mockingbird. I took it back to that same tree at camp and released it. When I was at a low after the show was canceled, there was a hummingbird in a fountain that was almost dead. I just put my hand in to take it out, and I saw it was alive. So I held it in the sun, and it started drying off and flapping its wings. Then it flew straight up. It was like this metaphor. It had been one of those down days for me. Just when you think you should give up, there's a hand that comes and get you and goes, 'Hope, you're going to be okay.'"

More on Ellen DeGeneres is featured in the March 3 issue of PEOPLE, on newsstands everywhere now.


*Also In This Week's 'People'*
Meet The Little Couple's Daughter: "She Has Her Ups And Downs Like Any 2-Year-Old"
Bruce Jenner's Shocking Transformation: "He's A Man In Personal Transition"
Jared Leto Talks To 'People': "I Think A Lot Of People Are Seeing Me For The First Time"
Lindsey Vonn's Olympic Heartbreak: "I Still Have Another Olympics In Me"