Ellen DeGeneres Narrates The Audiobook Version Of Best-seller 'Fifty Shades Of Grey'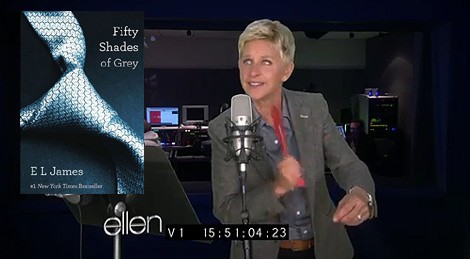 If you haven't heard of "Fifty Shades of Grey" yet, ask a friend about it because chances are someone you know is reading E L James' hit erotic novel, which is proving to be this year's hottest (in more ways than one) read.

The book and its two sequels (it's a trilogy), "Fifty Shades Darker" and "Fifty Shades Freed", are currently the top three selling novels on Amazon.com, and have everyone talking, namely because the books are written with very explicit sex scenes and lots of naughty language.

So who better to narrate the audiobook than Ellen Degeneres?

In a hilarious clip from her show on Thursday, the host was filmed reading passages of the book for the audio version of the book; which centers on a virginal literature student named Anastasia Steele, who sets up an interview with Christian Grey, a young entrepreneur, finding that she lusts for him. She does everything she can to woo him, and after he reveals that he's also interested in her - "on his own terms" - the two hook up. Then things start to get kinky.

Really kinky - like handcuffs, ropes, whips, toys, etc. - your basic BDSM (bondage, discipline, dominance, submission, sadism, masochism) type sex.

So far the stories have been referred to as "mommy porn", and so far have been credited with improving the what goes on in many couples' bedrooms. And men are reportedly picking up the book, too.

Universal Pictures and Focus Features have snapped up the film rights to the book series, and Vampire Diaries star Ian Somerhalder recently told Ryan Seacrest that he's interested in the lead role.

"I absolutely would be up for that. It could be amazing. It could be very, very amazing. I have the book and I just started reading it. Beyond a shadow of a doubt, I think that would be a phenomenal opportunity," he says.

The book's description on Amazon calls it "Erotic, amusing, and deeply moving, the Fifty Shades Trilogy is a tale that will obsess you, possess you, and stay with you forever."

Check out Ellen's video below, and if you've read it or plan to read it, leave us a comment below!