Ellen DeGeneres Mourning The Death Of 13-Year-Old YouTube Star Talia Castellano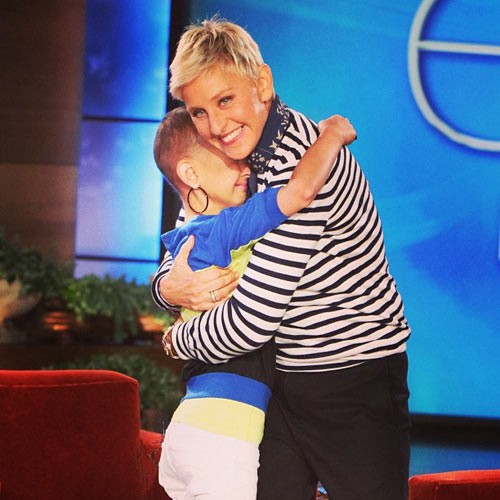 Ellen DeGeneres is mourning the death of 13-year-old YouTube sensation Talia Castellano, who lost her battle with cancer on Tuesday.

The teen shot to fame thanks to the video site, which she used to post numerous make-up tutorials. Her videos have amassed over 15 million hits, and DeGeneres had her guest star on her show a few times. She was even able to get her story in front of make-up giant CoverGirl, and they made her an honorary CoverGirl and gave her her own ad.

"We are honored to have known Talia and grateful for all the ways she showed us what true beauty means," CoverGirl Vice President Esi Eggleston Bracey said in a statement following Talia's death. "She inspired millions with her strength, personality and talent. Talia has touched our CoverGirl family forever, and we're thankful to have been a part of her life.

"Our hearts go out to her family and friends during this difficult time."

Back in April, when Talia appeared on Ellen's show, she revealed that she'd been suffering from neuroblastoma for over six years and was recently diagnosed with myelodysplastic syndromes (MDS), formerly known as preleukemia.

Following the show, Ellen posted a photo of the two embracing to her instagram page with the message, "@TaliaJoy18 is one of the most amazing people I met this season."

During the show, Ellen asked Talia how she maintains such a positive attitude while knowing there was little hope for her situation.

"When people ask me that, what do you want me to do, be depressed?" Talia replied. "I mean a little fishy told me, 'Just keep swimming, just keep swimming!'"

The reference, of course, is to Ellen's character Dory in Finding Nemo.

"This year I met a very special girl, and today we lost her," Ellen wrote on Tuesday. "Sending my heart to Talia's family. I'm so sad."