Ellen DeGeneres Lands Her Own Star On The Hollywood Walk Of Fame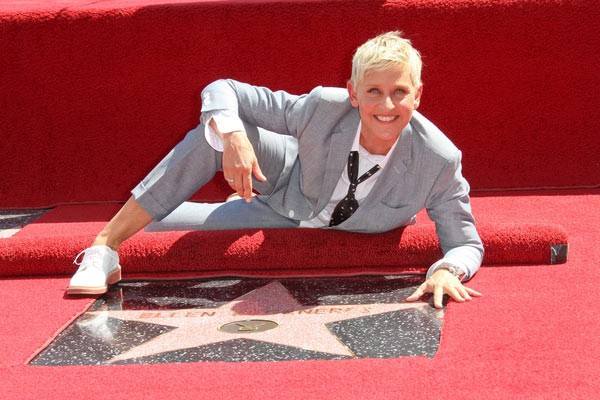 Talk show host / comedienne Ellen DeGeneres received the 2,744th star on the Hollywood Walk of Fame Tuesday. The 54-year-old star was honored by pals Jimmy Kimmel and Ryan Seacrest, who both gave short speeches celebrating her career in showbiz.
"It is amazing. I spent my entire career trying to conduct myself in a certain way making sure no one walks all over me only to get to a point where people are going to walk all over me," she told the crowd of fans at the unveling.
"It means so much to me that everyone showed up."

Ellen was accompanied by her mother Betty and wife Portia De Rossi, and hammed it up for the cameras with her new piece of real estate, located in front of Hollywood's W Hotel.

"I'm getting a star on the Hollywood Walk of Fame today at 11am. Come watch me!" She tweeted. "Also, I'd love a ride home. 6270 Hollywood Blvd."