Ellen DeGeneres Explains Original Plan For Oscar Twitter Photo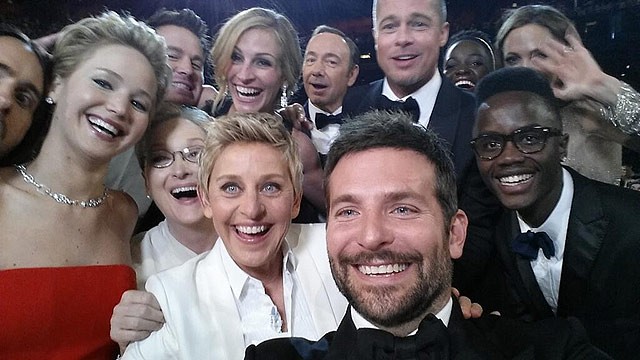 Ellen DeGeneres got her wish when she set out to create the most retweeted photo at the Oscars, but the picture is a far cry from what she intended.
Ellen told E! after the show that the joke was for Ellen to take a picture with Meryl Streep, then crop Streep out of the photo. "That was going to be the joke. But it doesn't matter. It was just great," she said to Bradley Cooper, who stopped by during her interview.
Instead, Ellen got a great shot of several huge Hollywood stars and crashed Twitter as users raced to help Ellen achieve her goal. As of this writing, the picture has over 2.8 million retweets.
She told E!'s Marc Malkin, "I thought it would crash. But I didn't know everyone would do it," referring to the picture's cast:  Bradley Cooper, Brad Pitt,Angelina Jolie, Jennifer Lawrence, Julia Roberts, Meryl Streep, Lupita Nyong'o, Lupita's brother Peter, Kevin Spacey, Channing Tatum, and half of Jared Leto. "What's funny is that Lupita's brother is the most prominent. And then Jared came running over to be in it. And Angie got it in. I didn't expect all that."