Ellen DeGeneres Breaks Twitter With Star-Studded Oscars Selfie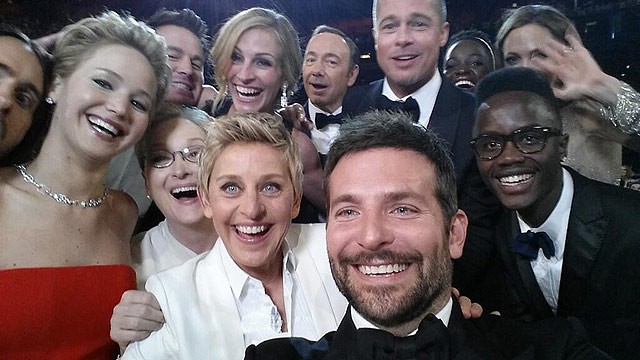 Ellen DeGeneres took a selfie with numerous A-listers during the 2014 Oscars and ended up breaking Twitter.

The host of the 86th annual Academy Awards shared the image, which featured Bradley Cooper, Brad Pitt, Angelina Jolie, Jennifer Lawrence, Julia Roberts, Meryl Streep, Lupita Nyong'o, Kevin Spacey and almost Jared Leto, shared the image on the social networking website after taking it, writing, "If only Bradley's arm was longer. Best photo ever" (Cooper actually held the camera).

The photo was retweeted over a million times, breaking the record set by U.S. President Barack Obama after his re-election.

The viral image caused twitter to lock out thousands of users.

"We crashed and broke Twitter," Ellen posted after she got the news.