Ellen Barkin: 'I'm A Little Anti-Social'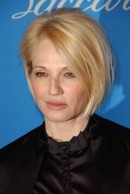 Anti-social actress Ellen Barkin joined Twitter.com to make friends.

The Ocean's Thirteen star has long shunned social media but she recently took a liking to Twitter and created her own profile to expand her inner circle.

She explains, "I did start Twitter because, you know, it's that thing called social media... and I don't have a whole lot of friends. I'm a little anti-social. That's the great thing about Twitter; I don't like to leave my house. So now I have 27,000 new friends."

And Barkin is taking her new hobby seriously - reading her new followers' profiles in case of a chance meeting.

Recalling a run-in with a fan in Georgia last week, she adds, "I was at the Savannah Film Festival recently, and before the movie was there, people tweeted me. Like they said, 'We live in Savannah, we'll see you at the festival.' And I said, 'Make sure you say hi, if you see me.' And I was sitting in the bar having a Diet Coke and a woman walked over to me and I just said, 'Lisa!' And I threw my arms around her and hugged her."

"She's my Twitter friend. I look at their pictures, I read their bios."