Elizabeth Olsen Turned Off Hollywood By Paparazzi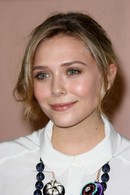 Elizabeth Olsen almost turned her back on her acting dreams after experiencing the hell her twin siblings Mary-Kate and Ashley went through at the hands of the paparazzi.

The 22 year old admits she was particularly horrified at the intense media focus on Mary-Kate when her battle with anorexia was made public in 2004 - and it was nearly enough to turn Elizabeth off Hollywood for good.

She tells Nylon magazine, "They turned 18 and what was going on in her life... was all over the news. They would follow us shopping and we would almost get into car accidents because of the paparazzi, and I didn't want to be a part of it. I just thought, 'This is such bulls**t.'"

But the younger Olsen's decision to stick to her chosen career path and follow her sisters into the spotlight is already paying off - her starring role in upcoming independent movie Martha Marcy May Marlene has received high praise from film festival critics.