Elizabeth Banks: 'We're Putting Too Much Pressure On The Earth'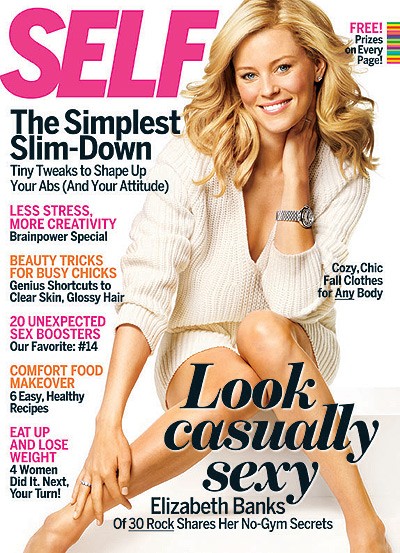 Elizabeth Banks recently spent time in the Galapagos Islands with Leonardo DiCaprio researching ocean conservation and as a result changed the way she eats, shops and lives.

Check out some sound bites from the new SELF magazine below, in which Elizabeth talks about her experience on her trip and how she does her part to conserve energy and waste less.

Next up for Banks? She'll star with Russell Crowe in "The Next Three Days."

"I relish learning. I am a voracious reader and also really value hands-on experiences. In my new film, I play a woman who is accused of murder and jailed. So to prepare for the role, I read a lot about the penal system and I visited a prison. I was locked in a cell for three minutes, at which point I wanted to cry. That was long enough for me! I have a good idea now of what Lindsay Lohan went through! But really, whatever I'm involved in, whether it's for a role or my interest in nature, I like educating myself.

"My trip to the Galápagos Islands in April was an amazing experience. I got interested in ocean conservation when it was presented to me in this very powerful way: When you go to Yellowstone and you see eagles and geysers and bears, you think, Thank goodness we don't allow them to build a skyscraper here; thank goodness we're conserving this land. We don't do that with the ocean. Less than 1 percent of the planet's oceans is preserved. That should change! I don't think I'm the one who's going to change the world, but hopefully, I can provide some momentum for change by sharing what I learned.

Max and I have cut out other things, like cable channels, because we'd rather spend money on good food. We're just trying to think more about the cycle of life we're part of. It also goes back to your real-life experiences. McDonald's hamburgers might be delicious in my mouth, but my real-life experience is that they make my belly hurt. I already didn't eat them that often, and now I know more about how things are processed. If they don't make me feel great, why would I bother eating them?

I'm no scientist, but it's clear to me we're putting too much pressure on the earth. So we are trying to consume less. I bring my own bags to the grocery store. I buy in bulk whenever I can, so there's less packaging. We got rid of our pool heater. I still have a car, but I walk everywhere I can." My relationship with Max is the most important in my life, so I really pay attention to it. We work on growing together and not growing apart. I mean, I'm not in his fantasy football league and he's not in my book club, but we're supportive of each other's passions. We've been a couple for 18 years and married for 7, and it's probably the thing in my life that I'm most proud of.

You have to put in the time with the people you care about. If my sister is having a party, we're getting on a plane. My husband jokes about how much time we spend with family, considering how far they are. But it's important. If you get sick, it's a small list of people who will come to the hospital. The people who are there for you, who are with you your whole life, are what really matters most."


Check out pictures from Elizabeth's trip and read her blog about how she carried her own trash with her for three days to see how much she would accumulate on SELF.com.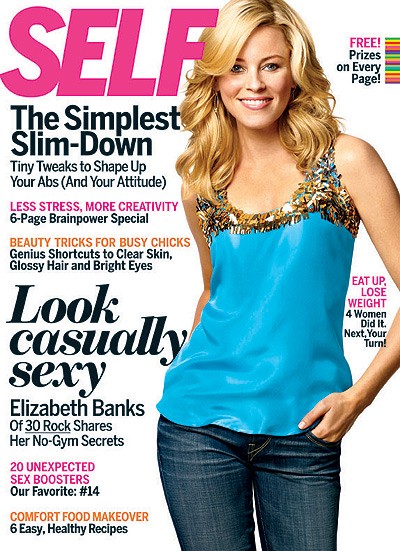 Click for more great Elizabeth Banks pictures: