Elizabeth Banks: 'I Love Beef And Baseball And Driving Fast And Flirting'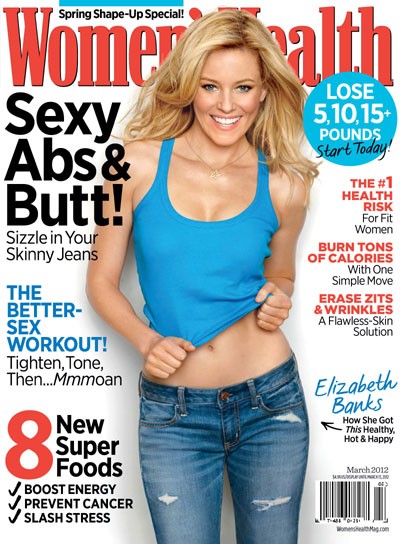 Elizabeth Banks, who stars in "Man on a Ledge" and upcoming films "The Hunger Games" and "What to Expect When You're Expecting" is Women Health's February cover girl.
The actress opened up about filming her upcoming movies, the best career advice she ever received and how she stays healthy (and her splurges) to keep herself looking good. Elizabeth is also celebrating her 38th birthday on February 10.

Elizabeth on her upcoming action flick, Man on a Ledge:

"[It was] a great ride of a movie. I got to shoot a gun and stand on a five-foot ledge 22 stories above Manhattan."

On working on The Hunger Games:

"Anytime you can work on something that's really entertaining but also has an intellectual idea at heart, it's very exciting."

On the traits that make her popular with men:

"I can hang with the dudes because I love beef and baseball and driving fast and flirting. I understand where men are coming from and I'm interested in typically male endeavors. But I can also wear the short skirt and cheerlead."

On the secret to a happy marriage:

"Don't embarrass your husband. Unfortunately, everything I do embarrasses him. But he's very accepting. I'm onscreen making out with other men! I know I could never be married to an actor."

On how she's stayed happily married:

"Number one, I never check any previous Google searches that my husband did. I don't want to know those things and, more than that, I don't want to confirm the things I think I know! It's good to maintain that mystery and trust."

On running for office:

"I'm a good role model. I have an amazing marriage and it will be long lasting. I think I'm a good mom. I could run for office, no problem, because there are no skeletons in my closet. Not that I would run for office:"
 
On becoming a mother through surrogacy:

"It helped that other moms had said that once they had their babies, they forgot they were ever pregnant. So once my focus became the baby and not the pregnancy, it was a very easy decision."

On her top fitness trick:

"I do this system called TRX. It was developed by a Navy SEAL and is basically a simple cord that you can wrap around something anywhere, anytime, and you use your body weight as resistance. We installed one in our home gym, but you can also attach it to a tree. It's very easy to travel with."

On what she calls "awesome":

"Prison rodeos. Google this shit! I'm dying to go!"

On what makes her laugh:

"You'll never see me in a T-shirt that has the body of a skinny lady wearing a bikini. But that fact that it exists really tickles me. And I think it's hilarious when a fat lady wears it. Fat lady wearing it, hilarious. Guy in it, even funnier."
 
On changing her last name from Mitchell to Banks:

"[Elizabeth Mitchell] had just joined SAG, so I had to get a new last name. I called SAG, and they said Banks was available. I cried when I changed it."

The latest issue of Women's Health hits newsstands on Tuesday, February 7.