Eliza Dushku Made An Albanian Citizen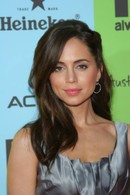 Actress Eliza Dushku has been made an Albanian citizen during a trip to the country.

Dushku, whose dad is Albanian, is currently in the Southeast European nation to film a documentary about its culture and promote tourism.
 
The Bring It On star took to her Twitter.com page to share her joy after she was made an Albanian citizen on Monday and share a photo of herself holding her official certificate.
 
She tweeted, "It's official! Epic... I LOVE & RESPECT Albania's diversity, culture & people."