Elisabetta Canalis Shows Off Her Sexy Bikini Bod In 'Summer Memories' Twitpic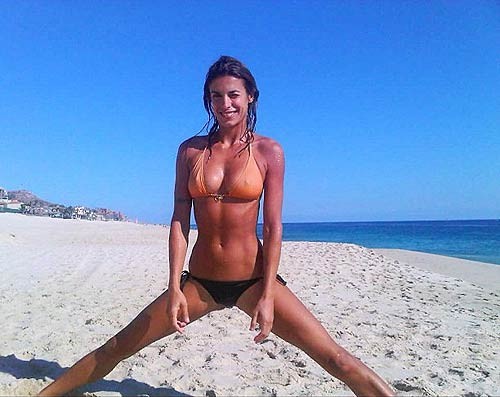 Italian stunner Elisabetta Canalis tweeted a sexy photo of herself on the beach with the message, "summer memories ! #fun," earlier this week.

The star, who recently dated Jackass star Steve-O, revealed in the September issue of Italy's racy Max magazine that she's the jealous type and can often get into fits of rage.

"If I see that my boyfriend receives messages I turn the other way, because if I rummage through the eyes of suspicion, I always find something," she says. "And then, when I'm jealous I become aggressive, a fury. I get angry a lot. And then I pack up and leave."

Elisabetta did a very racy shoot for the magazine (click through for a couple of pics from the issue that are borderline NSFW) -- enough to make any guy jealous. But she's got nothing but good things to says about her relationship with Steve-O, which the couple rekindled during a trip to Costa Rica in July.

"I thought he was crazy, but he's much more sensible to me," she says; adding, "My Steve does not flaunt his manhood ever. I love him for that."


summer memories ! #fun instagr.am/p/Q7b1Erk05Z/

— ElisabettaCanalis (@JustElisabetta) October 18, 2012