Elisabetta Canalis Comes Clean About Eminem Tattoo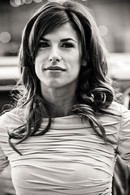 George Clooney's ex-girlfriend Elisabetta Canalis has finally come clean about the covered-up Eminem tattoo on her arm.

The Italian TV host made an appearance on TV show Access Hollywood Live on Thursday and turned coy when she was asked about her body art.

Insisting she didn't have a tattoo tribute to the rapper, as has been reported, she initially refused to let host Billy Bush check out the ink on her right bicep close up, but when he persisted she held out her arm, stating, "It's roses..." But Bush was more interested in what the floral design covered up.

He read, "E-M-I-N-E-M," prompting his red-faced guest to own up to a youthful mistake.

She said, "OK, I was 21 and I wanted to do exactly the same tattoo that this singer had, because you're a little bit dumb maybe sometimes at 21 and I did it, but I covered it."

It was also recently reported that the Italian bombshell sent some nasty texts to Clooney after finding out that he's now dating former WWE star Stacy Keibler, which Clooney spoke out in defense of Wednesday night. Afterward Elisabetta commented on the story and had nothing but kind words to say about her ex.

"He is a great man and he is a gentleman and I wish him to be happy. We've both moved on... I think it was very nice he stood up for me... You cannot control what the press writes. It's untrue." she says.