Elisabeth Rohm Opens Up About Fertility Treatments & Conception Nightmare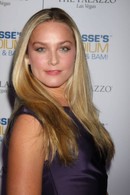 Actress Elisabeth Rohm, known for her role as Serena Southerlyn on NBC's Law & Order, shares her thoughts on a new guest blog on PEOPLE.com about the difficult time she had conceiving her two-year-old daughter, Easton August with fiancé Ron Anthony.

Rohm views conception and pregnancy as a "right (sic) of passage" for many women, but for others, like her, the situation was extremely difficult as she was unable to conceive naturally.

She says, "There are certain experiences that almost every woman looks forward to as a right of passage. Pregnancy is one of them. To me, it's as big as death, and it seems like an impossible situation when you discover that you will not give birth in your lifetime — or if you do, it will be after extensive medical assistance and cost a small fortune."

The star was hesitant to come out with stories of her experience because of the fact that in vitro fertilization (IVF) isn't something that's entirely accepted in society; and to her it was a very personal issue.

"On the other hand, some of my quiet about my experience has also come from the burden of sadness and frustration," she explains, "My closest inner circle knows about my choice to do IVF, and whenever I meet a woman who is struggling and lost in her pursuit of a natural pregnancy, I am very forthcoming. It's mutually soothing to share this personal experience. We all need comfort and support when we are experiencing personal challenges."

Rohm only had to endure the IVF procedure twice in order to conceive, and she says that she learned quite a bit about the very eye-opening experience.

"If you'd have asked me 10 years prior what I thought of IVF, surrogacy or anything other than the God-given natural way, I might have condemned it out of ignorance. How quickly I had to acknowledge every individual's right to choose what's best for them and their family."

Elisabeth Rohm can be seen in the upcoming films Abduction, about a man who sees his picture on a missing persons website and seeks to uncover the truth about his life; and Transit, about a family taking a road trip and stalked by criminals.

Check out the rest of her guest blog at PEOPLE.com.