Elin Nordegren Breaks Her Silence Over Tiger Woods Split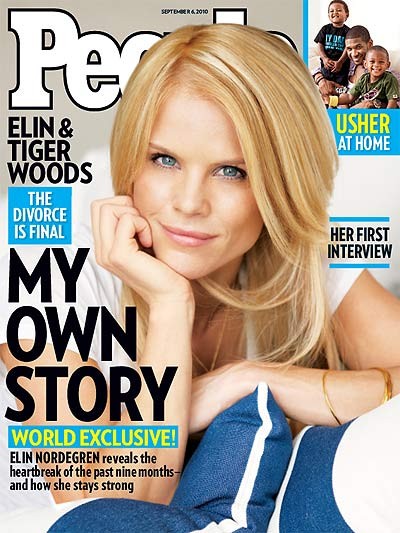 Her divorce is final and she's ready to talk. Elin Nordegren breaks her nine month silence in an exclusive interview with PEOPLE magazine.

"I have been through the stages of disbelief and shock, to anger and ultimately grief over the loss of the family I so badly wanted for my children," she says in the magazine's latest issue, out just days after her split from Tiger Woods was made official.

The 30-year-old mother of two, who is studying towards a college degree in psychology, says that despite her husband's betrayal, "I also feel stronger than I ever have. I have confidence in my beliefs, my decisions and myself."

In 19 hours over four visits to her Windermere, Fla., rental home, Nordegren shared never-before-seen personal photographs and opened up to PEOPLE about the emotional roller coaster she's been on, her life as a mother to Sam, 3, and Charlie, 18 months, and her hopes for the future.

"My immediate plan is for the kids and me to continue to adjust to our new situation. I am going to keep taking classes, but my main focus is to try to give myself time to heal," she says.

She tells the magazine this was her first -- and last -- interview, as she intends to remain a private person.

ALSO IN THIS WEEK'S 'PEOPLE':

Kelly Preston's Baby Shower: "Kelly Was Overjoyed With The Celebration," Says A Source
PEOPLE shares all the details from Kelly Preston's intimate outdoor baby shower - with her favorite orange pumpkin-spice cake on the menu. The beaming mom-to-be, 47 - whose rep confirms to PEOPLE that the baby is a boy - was surrounded by several of her closest girlfriends on August 8 when they threw her a shower at the Los Angeles-area home the actress shares with husband John Travolta. Says a family friend, "After tragedy [son Jett suffered a fatal seizure in 2009], to have such peace and happiness is wonderful. This baby is such a healing baby." Preston and some 40 guests feasted on a buffet that included truffled macaroni and cheese and baby pigs in a blanket. Says cohost Keisha Whitaker: "We just wanted to make sure it was a wonderful day. We all had an amazing time. Kelly was overjoyed with the celebration, as well as all the love in the air."

Saturday Night Live And Mad Men Love!
PEOPLE reports on the love lives of SNL cast members Jason Sudeikis, Fred Armisen, Abby Elliott and Mad Men stars January Jones and Elisabeth Moss. Jones and Sudeikis, who began going out this summer, "aren't hiding their relationship…It's a new relationship, but they are really happy," says a source, adding that she'll take him to the Emmys. Meanwhile, Armisen has moved on [after his split from Jones' costar Moss] with his SNL costar Abby Elliott. "They've always been close friends on-set, but after he split from Moss, they started hanging out," says an Armisen source. Adding, their romance "is still in the early stages."

Usher Reveals How Fatherhood Changed Him: "I'm A Dad, First And Foremost"
Usher opens up to PEOPLE about his split from ex-wife Tameka and revels in his sons being the center of his universe. "I'm a dad, first and foremost," says one of music's most eligible bachelors. "Of course I have to travel and make a living, but my sons are my priority…I never knew I could be so happy just hanging out with them." Of ex-wife Tameka, Usher says, "I don't regret anything about my marriage. Without Tameka, I wouldn't have had a lot of things in my life, including my sons. My decision to marry her was based off a genuine relationship between us. We were following our hearts."

Now, Usher does go on dates, usually dinner with women he meets through friends. "Usher takes relationships more seriously now. He used to be like a young kid. Now he's a man," says the singer's longtime confidant Mark Pitts, Jive's president of Urban Music. Says Usher: "Who knows? Marriage might find me again someday. But not too soon." Adding, "When I'm home, I spend a lot of time with my sons…Any future relationship will have to fit in with this."

Jerry O'Connell: "Once In A While I Blow My Wife's [Rebecca Romijn] Hair Out!"
PEOPLE sits down with Piranha 3D star, Jerry O'Connell to discuss his cats, how he's the best husband ever and sometimes not so much. His Cats Are… "A lot like Garfield. But lazier. We have a mouse problem at our house, and they do nothing." He's The Best Husband Ever… "Once in a while I blow my wife's [Rebecca Romijn] hair out. I learned from watching some of those reality hairstyling shows like Shear Genius." Then Sometimes, Not So Much… "My cell was uncharged and I said to Rebecca, 'Hey, be a doll and put this in the charger.' She said, 'Don't ever call me that again.'"

The new issue of PEOPLE is on newsstands everywhere Friday.
Click for more great Tiger Woods pictures: