Elijah Wood Honored For His Charity Work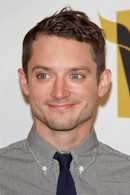 Elijah Wood was honored for his tireless charity work at a glitzy ceremony in Los Angeles on Saturday.

The actor is a long-time supporter of The Art of Elysium, an organization which helps celebrities visit sick children in the hospital.

He regularly offers his services, along with stars including Ben Affleck, Courteney Cox and James Franco, and charity bosses praised his ongoing commitment at a gala in L.A.

Wood says, "I am constantly inspired by the work of The Art of Elysium and how they use the transportive power of art to heal and inspire children; elevating them beyond the confines of their pain and discomfort to engage them in creativity and beauty.

"It has enriched my life to be part of this tirelessly dedicated family and the lives of the children they've transformed. Such a simple concept - to engage hospitalized children in all forms of art and the extraordinary experience of its power."