Eligible Bachelors We'd Like To See Hook Up With Scarlett Johansson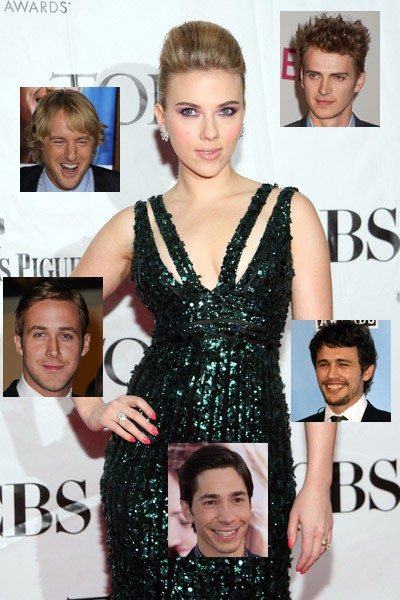 Scarlett Johansson and Ryan Reynolds shocked their fans earlier this week when they announced their divorce. Johansson, 26, began dating Reynolds, 34, in 2007. The stars tied the knot in September 2008 in a remote wilderness retreat in Vancouver, B.C.
After just two years together the couple came to the decision to end their marriage. A source says their work and distance from each other led to the split.
So this makes Scarlett one of the most eligible bachelorettes in Hollywood.  Check out our list of some of the men she may want to hook up with - and who cares if it's a rebound relationship!
Following his critically acclaimed film "127 Hours," Franco's career is really amping up. The 32-year-old is co-hosting the Academy Awards with Anne Hathaway, and it doesn't hurt he was nominated for "Best Actor." He has several upcoming film projects, including "Rise of the Apes," "Your Highness" and "Ricky Stanicky." However, distance kept Scarlett from Ryan, so maybe being too busy won't work in James' favor.
It appears that 42-year-old Owen's life is fully back on track following his attempted suicide a couple of years ago following his split with Kate Hudson. He's been linked to Rachel McAdams, but it seems that true love has alluded him.  Maybe sexy Scarlett can steal his heart. Owen has been busy working on romantic comedies, including the upcoming "How Do You Know." He must have learned something from making those films!
Hayden and his ex-fiancee Rachel Bilson may be together again, but we're not sure. And that's the beauty of it--29-year-old Hayden keeps his private life private, just like Scarlett does. The two toe headed celebs would make a great couple because they'd keep out of the public eye. And wouldn't they make beautiful babies?
Sure, he sways on the geeky side, but that's hot right now. 32-year-old Justin proved he is a relationship guy after wooing Drew Barrymore, and he's funny.  Scarlett could use a little humor in her life right now.
Another Ryan would make a great rebound guy, don't you think? He's possibly dating "Gossip Girl" star Blake Lively, but it's casual at this point.  And maybe that's what Scarlett needs--just a hookup! Before she gets serious again, she needs to have a little fun, and 30-year-old Ryan may be the guy to help her do it.
What do you think? Who would you like to see Scarlett get together with?
Click for more great Scarlett Johansson pictures: