'Eleventh Hour' Vs. 'Life On Mars'

Two of this season's most anticipated new shows debuted in the same time slot Thursday night. The new series
Eleventh Hour
aired on CBS, and opposite of that on ABC was the premiere of
Life on Mars
. The two shows put up impressive numbers in their first episodes, with
Life of Mars' 7.7
edging out
Eleventh Hour's 7.3
in the Nielsen Ratings. Both shows drew more viewers than the long-running
ER
, which came in with a 6.0 for NBC.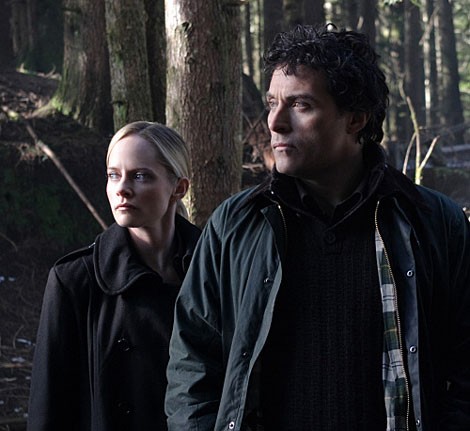 Eleventh Hour is based on a U.K. series of the same name.
Rufus Sewell
stars as Dr. Jacob Hood, a brilliant biophysicist recruited by the FBI to investigate the rapidly growing number of crimes of a scientific nature. In the opener, nineteen fetuses are found buried of off a highway outside of Seattle. Dr. Hood is called in to investigate when it is revealed that the fetuses all have the same DNA. Hood and his bodyguard Rachel (
Marley Shelton
) go on a mission to hunt down the people responsible for these human cloning experiments. In the end, Dr. Hood makes the decision to try to save the young woman who is pregnant with the last cloned fetus. He is able to save her, but the doctor behind the operation gets away. This scientific crime drama seems like a logical follow up to CSI. Sewell is very good as Dr. Hood, and as one of only two recurring characters, he will have to carry the show. The timeslot is a very cushy one, and as long as people are watching
CSI
, there will probably be people hanging around to watch Eleventh Hour.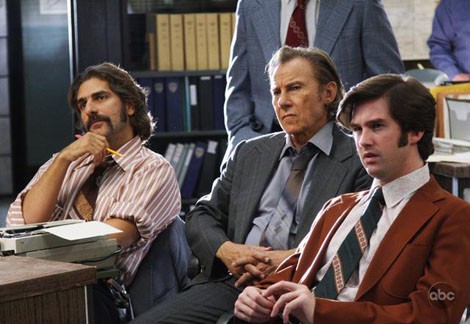 That is unless they change their dial to ABC at 10 to watch Life on Mars. This show is also based on a British series of the same name. It is one of the most hyped new series of the fall, and presents a very intriguing storyline. NYPD Detective Sam Tyler (
Jason O'Mara
) is just doing his job like any other day, when he is hit by a car and put into a coma. When he wakes up, he is not in a hospital. He is in the year 1973. Has Sam really been thrown back in time, or is it a lucid coma fantasy? When he stumbles upon a case related to one in 2008 in which his girlfriend was captured, he realizes that there may be a reason that he was sent back. After capturing the perp and having a talk with the kid who would grow up to become the copycat criminal, Sam can hear Maya on his car radio, and she says that she is safe. Sam tries to wake up, but he can not. He realizes he will be in '73 for the foreseeable future, and is going to do all he can to make a difference while he is there.
While neither show has any A list actors, the supporting cast of Life on Mars includes some familiar faces.
Harvey Keitel
stars as Precinct Captain Gene Hunt, the
Sopranos
'
Michael Imperioli
plays Det. Ray Carling, and
Rounders
'
Gretchen Mol
is Officer Annie Norris. The filming of Life on Mars is very unique, and the lighting, sets, and costumes really make you feel like you have gone back in time. Its solid cast and intriguing storyline makes Life on Mars a must see for the new television season. It too has a cushy timeslot, airing after episodes of Grey's Anatomy, and its rating win on Thursday shows that viewers are tuning in.
Ratings information is taken from Nielsen's fast national data. It includes live and same-day DVR viewing, and is subject to change. Eleventh Hour and Life on Mars are both all-new Thursdays this fall at 10/9c. Check back with Starpulse.com for news and updates for all of your favorite shows.
Story by
Kevin Olsta
Starpulse contributing writer