Elephant Man Freed On Bail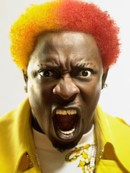 Jamaican dancehall star Elephant Man has been released on bail following his arrest on suspicion of rape.

The Jook Girl hitmaker, real name O'Neil Bryan, was taken into custody on Monday after allegedly assaulting a woman at his home in St. Andrew, and he has since been charged with grievous sexual assault and rape.

He appeared before a judge at Corporate Area Resident Magistrate's Court on Wednesday afternoon and subsequently posted $4,665 bail.

Elephant Man has been ordered to return to court for a preliminary hearing on May 21.