Elbow Promise An 'Epic' Olympics Track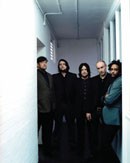 British rockers Elbow have promised fans they can expect an "epic" sound when they release the official BBC soundtrack to the 2012 London Olympics.

The band landed the honor of writing the theme tune for the highly-anticipated sporting event's coverage on the revered British network, and they have come up with a six-minute track.

Bassist Pete Turner insists sports followers can expect a tune to match the gravitas of the Olympics, as it will feature a huge gospel choir and the BBC Philharmonic Orchestra.

He tells Noise11, "That was really good. Just an area that we've never explored, really, writing something specifically for something else. And it was great; really good fun. It's a pretty epic tune. It's got the Philharmonic Orchestra and the London Community Gospel on it."
"I'm looking forward to hearing that. I think it gets its first airing in March."