Edie Falco Tackles Healthcare, Prescription Drug Addiction In 'Nurse Jackie'

Edie Falco
is much more than her role as Carmela on "
The Sopranos
." She's a cancer survivor, a single mom, and the star of the new Showtime series "
Nurse Jackie
."
A native of Brookyn, New York, Falco started her television career with appearances on "
Homicide: Life on the Street
," "
Oz
" and "
Law & Order
." She has also starred in films such as "
Freedomland
," "
The Quiet
" and "
Sunshine State
."
In her latest project, Falco plays Jackie, a nurse battling the insanity of everyday life in the American health care system. Jackie is great at her job, but she's also a deeply troubled woman, with looming shadows of prescription drug addiction and her lapsed Catholic faith always appearing in the background.
"Nurse Jackie" premieres Monday, June 8, at 10:30 p.m. ET/PT.
- Click pic for next page -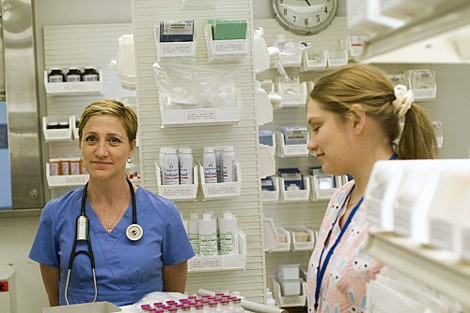 Image © CBS Broadcasting Inc."