'Edge Of Darkness' Preview

Warner Brother's newest suspense action thriller, Edge of Darkness hits theaters on Friday, January 29th and we think it's a must see for all those who have been craving a long overdue Mel Gibson flick.


Mel plays Thomas Craven, a veteran homicide detective for the Boston Police Department whose daughter is murdered on the threshold of his house, compelling him to believe that he was supposed to be the target. He soon suspects otherwise and heads up an investigation into his only daughter's secret life which leads him into the world of government conspiracy, corporate schemes and murder.

Directed by Martin Campbell, who also directed Casino Royale and co-written by Academy Award winning writer William Monahan (The Departed), Edge of Darkness was adapted from the 1985 BBC mini-series of the same name. Because William Monahan is from Boston, he had no trouble writing about the city and the characters but the dialect is difficult for some actors to pick up. Director Martin Campbell said Mel has a good ear for accents and with the help of a dialect coach he was able to perfect the Boston accent.

Mel Gibson hasn't appeared in front of the camera for a few years amidst his directing gigs and a few minor scandals involving alcohol, police and a divorce and new baby but he is back and ready to make an impression once again on audiences. It has been too long since we've seen Mel in a good flick - over seven years to be exact. The last time we saw him on the screen was in M. Night Shyamalan's Signs, which failed to compare to Mel's iconic Braveheart and The Patriot status. Mel told the Associated Press "It was time, I felt like getting back in the saddle. I felt like I was getting stale about seven or eight years ago. Stepped back, did some things I wanted to do. Did a few things I didn't want to do. And then time to come back."

More recently Mel's scandalous ways were poked fun at by Ricky Gervais at this month's Golden Globe Awards. He joked along with Ricky as he brought a pint of beer to the podium and introduced Mel, saying, "Honestly, I like a drink as much as the next man - unless the next man is Mel Gibson." He may prove us all wrong and have us eating our words if he can turn Edge of Darkness into his ultimate comeback. Watch out Britney Spears!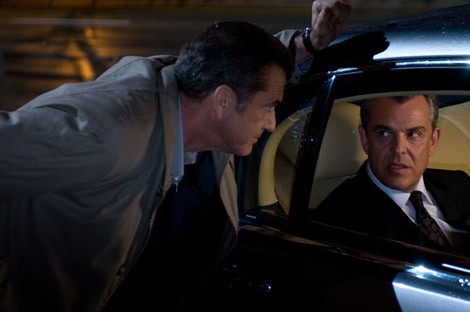 Image © Warner Bros. Entertainment Inc.

Story by Erin Demchak
Starpulse contributing writer