Eddie Murphy's Ex-Wife Nicole 'Conned Out Of Millions'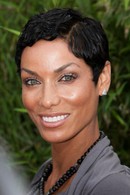 A man accused of stealing $7 million from Eddie Murphy's ex-wife has been indicted on charges of money laundering.

Troy Stratos is alleged to have defrauded Nicole Murphy out of almost half of her $15 million divorce settlement from the actor when he worked as her financial manager.

According to official documents, Stratos told his client to invest her money overseas, but allegedly transferred the cash to his personal accounts instead. Stratos also allegedly lived in Murphy's California home rent-free as she attempted to sell the property.

He has now been indicted on charges of money laundering, mail fraud and obstruction of justice, reports TMZ.com.

Nicole Murphy's financial woes came to light last year when it was claimed she owed $846,630 in back taxes.