Eddie Murphy Puzzled By Allegations That He's A Recluse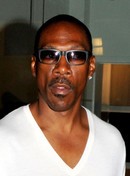 Eddie Murphy is baffled by reports he's a Hollywood recluse, insisting he's out all the time - he's just too old to attend parties.

The funnyman admits he prefers to be at home than hanging out with fellow stars at Los Angeles clubs - but that doesn't make him a hermit.

The Dreamgirls star tells Rolling Stone magazine, "I leave my house all the time, but I'm not at all the Hollywood parties. I'm grown, and where else am I supposed to be? I'm supposed to be home.

"If I were out in the clubs every night, they'd be saying, 'That's a shame, look at him, 50 years old, he's still out at these clubs.'

"Recluses are nasty, with long nails, don't wash their ass... I'm too vain to be a recluse. But homebody, absolutely. I'm 50 years old, beautiful house, I'm supposed to be home, chilling."