Eddie Griffin Stars in "Irish Jam," On DVD March 14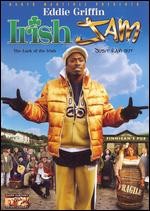 Raise a glass, or a pint, to Visual Entertainment's DVD release of Irish Jam, an urban comedy featuring
Eddie Griffin
(
Deuce Bigalow: Male Gigolo
,
Undercover Brother
) and Mo'Nique (
Domino
, Oxygen's Mo'Nique's Fat Chance). Two worlds instantaneously collide as Jimmy (Griffin) lands in Ireland to take over a pub he won in a poetry contest. What follows is a hilarious fish-out-of-water comedy with romance, adventure and a great message about acceptance. Irish Jam is a broad based film perfect for families and urbanites. Just in time for St. Patrick's Day, this big-budget film will be available on DVD March 14.
In Irish Jam, Jimmy "The Jam" McDevitt (Griffin) is a Los Angeles conman getting into all sorts of trouble. He is on the run from his ex-fiancé (Mo'Nique) who he stood up at the altar and is dodging his landlord because he can't pay his rent. Jimmy enters a poetry contest sponsored by a town in Ireland with the hopes of escaping his troubles.
The small Irish town is controlled by a greedy mogul and the only thing he does not control is the local pub. The villagers are unable to make the payments to support the pub and decide to offer a poetry contest with a small entry fee to raise the money needed to keep the pub. Jimmy wins by plagiarizing a rap song and submitting it to the locals. As the winner of the contest Jimmy travels to Ireland to become a first time local pub owner. Maureen (
Anna Friel
), a beauty with the voice of an angel, entertains pub patrons with Irish songs and soon finds herself falling for Jimmy.