EBay Auctions Signed 'Saw IV' Posters For Children's Charity

On behalf of Lionsgate, we are pleased to announce Ebay charitable auctions for several exclusive
Saw IV
posters signed by
Tobin Bell
, Darren Lynn Bousman, Lyriq Bent, Mark Burg, Oren Koules,
Scott Patterson
, & Betsy Russell benefiting The Elizabeth Glaser Pediatric Aids Foundation.
The winning bidders will receive studio certified posters signed by the cast and filmmakers along with a signed letter verifying their authenticity. Auctions begin today and will continue through the film's opening weekend. Interested fans and collectors should be aware there are only a limited amount of posters available.
"Upon the news of Detective Kerry's murder, two seasoned FBI profilers, Agent Strahm (Scott Patterson) and Agent Perez, arrive at the depleted police precinct and help veteran Detective Hoffman (Costas Mandylor) sit through Jigsaw's latest grizzly game of victims and piece together the puzzle. But then, SWAT Commander Rigg (Lyriq Bent), the only local officer who has yet to experience Jigsaw's (Tobin Bell) handiwork, is suddenly abducted. Thrust into the madman's harrowing game, he has but ninety minutes to overcome a diabolical series of interconnected traps… or face the deadly consequences.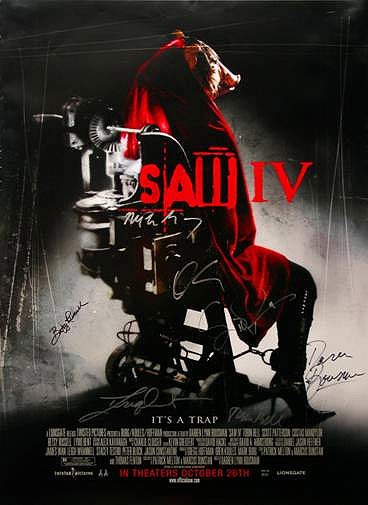 Rigg's citywide pursuit leaves a wake of dead bodies, and Detective Hoffman and the FBI uncover long hidden clues that lead them back to Jigsaw's ex-wife, Jill (Betsy Russell). The genesis of Jigsaw's evil is unveiled, exposing the puppet master's true intentions and the sinister plan for his past, present and future victims.
Saw IV
opens everywhere in theaters October 26.
Click here to view the auction.