Early Access To Episode 4 Of IFC's 'Out There'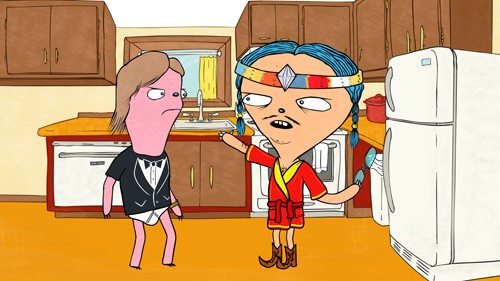 Spring has sprung in Holford, and in celebration, the upcoming fourth episode of IFC's new animated series 'Out There' is now available on IFC.com, Hulu, YouTube, Facebook, TVE and VOD. You can also view the episode in its entirety, right here, right now!
In this new "Springoween" episode, the town of Holford celebrates Halloween in the spring, since an extreme snow storm canceled the holiday in October (this may sound strangely familiar to those affected by Sandy). Socially awkward Chad (Ryan Quincy) who is now 15 still wants to trick-or-treat, but his best friend Chris (Justin Roiland) convinces him to find a high school party. Meanwhile, the town adults cut loose at Chad's parents' house and Chad's little brother Jay (Kate Micucci) is on the run from Holford's legendary maniacal bad boy, Johnny Slade (Christian Slater). 
The episode will also air on Friday, March 8 at a NEW time - 10:00pm ET/PT
'Out There' is created, written by and executive produced by Ryan Quincy, Emmy-award winning animation director and producer of South Park. Other notable voices guesting throughout the season include Pamela Adlon, Fred Armisen, Selma Blair, Linda Cardellini, Jemaine Clement, John DiMaggio, Megan Mullally, Nick Offerman, Ellen Page, Stephen Root, Jason Schwartzman and Sarah Silverman.