Eagles' Timothy B. Schmit OK After Cancer Scare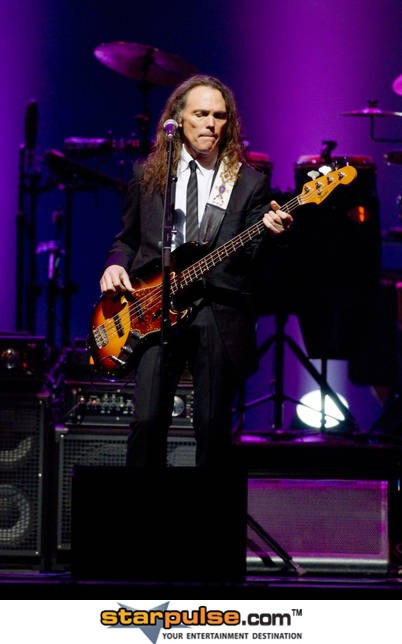 Eagles' bassist Timothy B. Schmit has been given a clean bill of health after undergoing surgery for throat and neck cancer.

The Hotel California hit-maker was diagnosed with the disease back in October, but his personal assistant only revealed the news in December, a few weeks after he was hospitalized in New York for the invasive procedure.

In a post on his fan website TimothyBSchmitOnline.com, she wrote, "The final pathology report stated that he appears to be cancer free, both in his throat and neck. He does not need to have chemo or radiation. Now he just has to keep an eye on things every month for about a year to be sure it stays away, and then not so often.

"Timothy is healing nicely, though his throat is still a bit sore, but he's already out and about. He says that this has been a life changer in many ways... He doesn't have his singing voice back yet, but he's been talking ever since being in the recovery room at the hospital, and the doctors are quite confident he'll be up and at it again."

And now Schmit has spoken out to thank fans for their well wishes, insisting he'll be heading back into the studio soon.

A statement on his official page reads, "I'm way past due in expressing my sincere gratitude for the outpouring of get well wishes I've received over the last few weeks... I very much appreciate all of your thoughts and prayers regarding my health. But, let me give you a brief update. Although my issues were disheartening, and I went through what the doctors called, 'major surgery', the truth is I was only bedridden during my three night stay in the hospital.

"I was up and about right after, starting with daily walks on the streets of Manhattan. After another week I received a clean bill of health and headed for home on the west coast. My voice is coming along nicely... So... All is good.

"The brief synopsis is: I discovered a problem and took care of it; simple as that. So, not to worry... I love my work, and plan on doing it for as long as possible. I'm chipping away at a new solo album, and I wouldn't be surprised if you hear of more Eagles action in the near future."