EA Games To Release 'Skate,' The Ultimate Boarding Game, In September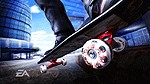 Skate
is the closest thing to skateboarding without actually putting your feet on a board. With innovative controls that take advantage of the dual analog sticks, the power of the next gen hardware, and the ability to sculpt tricks that define your own style, skate delivers an authentic boarding mecca like no other video game.
Individual style combined with physics-driven animations promise that no two tricks will ever be the same. And there's plenty of room to pull off those tricks – San Vanelona challenges you to explore, find, and own the best spots. You can even capture footage to create and show off your style with friends across the world – because without footage, it's fiction.
Game Features:
-flickit – The days of button mashing are over. The intuitive flickit dual analog controls let you perform skill-based trick executions that capture the real-world feel and true attitude of skating.
-Define Your Style of Skating – Create your own style and personality with animation and physics that give you the freedom to decide how your skater looks, feels and rides. Get creative as you develop your own tricks and string them together to create lines.
-Without Footage, It's Fiction – Capture your sickest moves in game and bring them online for the world to see. Multiple camera angles & innovative editing tools allow you to create the ultimate skate video.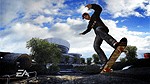 -Create Your Own Story – Skaters don't follow rules, they can choose how they want to progress through the game. Open progression allows gamers to skate how they want to skate. Become famous and generating mainstream hype or go the infamous route by outrunning security guards, owning spots and building street red. Depending on how you roll in the game, you'll start seeing your own coverage in Thrasher or The Skateboard Mag.
-Make San Vanelona Your Playground – Get chased by security guards, impress and/or annoy the citizens in this fully reactive city. San Vanelona is the ultimate skate mecca where you can ride with pros, discover skate shops, and own spots to make them yours.
-Roll with the Pros – skate features professional legends and upcoming pros including Danny Way, Mark Gonzales, Rob Dyrdek, Mike Carroll, P.J. Ladd, Chris Cole, Jason Dill, Pat Duffy, Jerry Hsu, Paul Rodriguez, Dennis Busenitz, Alex Chalmers, Chris Haslam, Colin McKay, John Rattray, Ryan Gallant, Ryan Smith and Terry Kennedy.
-Online Gameplay*– skate features an extensive online gameplay system including multiple online multiplayer modes. Gamers can hit up popular spots in the city with friends across the country.
Soundtrack Track Listing:
Agent Orange
- No Such Thing
Airbourne - Let's Ride
Bad Brains
- I Against I
Band Of Horses
- The Funeral
Beat Beat Beat - Sinking Slow
Black Flag
- Six Pack
Booker T & The MG's - Green Onions
Challenger - Input The Output
Cheap Trick
- Surrender
Children Of Bodom
- Hate Crew Deathroll
David Bowie
- Queen Bitch
Dead Prez
- Hip Hop
Devo
- Gut Feeling/Slap Your Mammy
Eddie Rap Life - Push Your Wood
Eric B & Rakim
- Juice (Know The Ledge)
Escalera - Go It Alone
Filthy Thieving Bastards - …Lords Of The Avenues
Gang Starr
- Now You're Mine
H.I.T. - Drama
Mac Mall - Perfect Poison
Motorhead
- We Are Motorhead
Nirvana
- Lounge Act
N.W.A.
- Express Yourself
Renee Renee - Stand Up Talk Easy
Rick James
- Give It To Me Baby
Rick Ross
- Hustlin'
River City Tanlines - Black Knight
S.T.R.E.E.T.S. - Georgia St.
Sicker Than Others - Face Away
Sister Nancy - Bam Bam
Slayer
- Raining Blood
The Briefs - Poor And Weird
The Coup - Ride The Fence
The Dwarves - Massacre
The Exploding Hearts - Your Shadow
The Falcon - Blackout
The Mag Seven - D*ck Cemetery
The Ramones
- Psycho Therapy
The Returnables - Teenage Imposters
The Sex Pistols
- Pretty Vacant
The Stars Misplaced - Prophets And Kings
The White Stripes
- Girl, You Have No Faith In Medicine
Trouble Andrew - Chase Money
Valient Thorr - Man Behind The Curtain
ZZ Top
- Just Got Paid
-
Head over to EA Sports' Skate Site To Check It Out!