'Dynasty' Reunion To Air May 2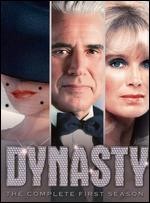 Dynasty Reunion: Catfights & Caviar
reunites original series stars
Joan Collins
,
Linda Evans
and
John Forsythe
to pay tribute and celebrate the long-running series
Dynasty
, one of the most popular series in television history, to be broadcast Tuesday, May 2, on CBS. Premiering 25 years ago in 1981, "Dynasty," which ran through 1989, exposed the saga of a wealthy oil business family and the conflicts that constantly arose between two huge corporations.
The legendary cast will gather together at the Filoli Mansion in Northern California, which was the home of the show's billionaire hero, Blake Carrington, and his infamous family. Al Corley,
Pamela Sue Martin
,
Catherine Oxenberg
and Gordon Thomson also return.
Each cast member will reminisce about the time spent making the series and the scenes that they most treasure and enjoyed. Show creators Esther & Richard Shapiro, as well as famed fashion designer, Nolan Miller, will also be on hand to talk about how the show and its style evolved over the years. Film clips of scenes from the show will also be seen.