Dylan Sprouse Opens Up About Naked Selfies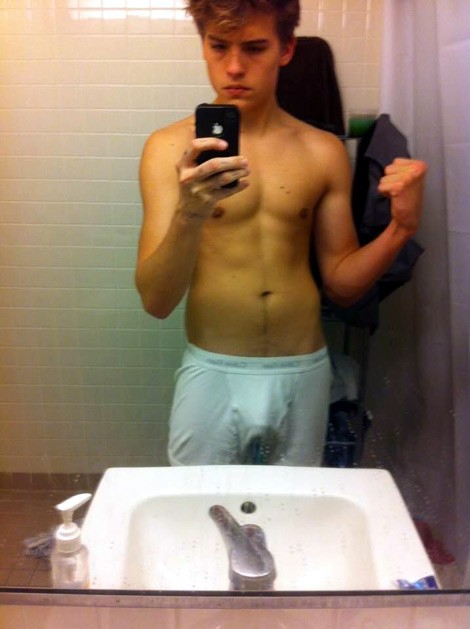 Usually it's young women who find themselves involved in nude photo scandals, but this time it's Dylan Sprouse from the popular Disney series "The Suite Life of Zack and Cody."
Naked photos of the 21-year-old star hit the internet on Sunday night (including one in in which he barely covers his manhood with his hand), and in a surprise turn of events, the actor owned up to the pics, saying he was proud of his physique.
In a post on Tumblr, he explained: "First off, the reason I'm making light of the situation is because I don't think what I did was wrong. To be blunt, I was proud of my progress in the gym, thought I looked hot, and wanted to share it."
He added, ""There is an odd taboo with the human form (especially in the USA) and I don't particularly think its a good thing to teach people that you should 'hide yourself' as something incredibly sacred. Blah blah blah, that's a medieval notion."
He joked at the end of his post,  "I did it, but I'd be damned if I didn't own that s*** like Beyonce would want me to."
Meanwhile, his brother Cole couldn't resist mocking the size of his brother's manhood, writing on Twitter: "Cold in the bathroom, huh?"
Slammed!
Dylan and his twin shared roles on the ABC hit series "Grace Under Fire" and in the Adam Sandler movie "Big Daddy." They appeared in "The Suit Life of Zack and Cody" from 2005-08. Dylan is currently enrolled at NYU.
Related: Someone Trying To Sell Nude Photos Of Demi Lovato, Miley Cyrus Leaves Nothing To The Imagination In Semi-Nude Photoshoot, 2013 Celebrity Sex Scandals & Nude Photo Leaks
Cole & Dylan Sprouse in 2010