Dyan Cannon: 'Cary Grant Was Not Gay'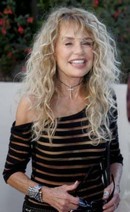 Actress Dyan Cannon has exploded the myth surrounding her ex-husband Cary Grant's sexuality, insisting there were no signs he was gay during their four-year marriage.

Cannon has addressed the claims her ex was a closeted homosexual in her new book Dear Cary and, in a new TV interview, she insists Grant was all man in the bedroom.

"That part of our life was very fulfilling. There were no problems. There's rumors about everyone in Hollywood.

"I never saw any of that. It was not true. There was no foundation."

And she insists she never stopped loving Grant - even after the couple divorced in 1968: "He was a beautiful, wonderful, dear man."

Grant died after suffering a cerebral hemorrhage in 1986.