'DWTS' Round 1 Recap: 'Sex' Star Impresses, Apple Geek Doesn't

The
Dancing With The Stars
Season 8 premiere hadn't even kicked off yet, but two stars were already eliminated…due to injuries.
Jewel
and
Nancy O'Dell
both had leg injuries preventing them from competing in this season's competition. However, ABC was quick to jump on the reality star bandwagon, bringing in
The Girls Next Door
's
Holly Madison
and recent
The Bachelor
dumpee, Melissa Rycroft to replace them.
Reigning champ
Derek Hough
took the floor first with partner
Lil Kim
. They danced the Cha Cha Cha. Kim was excited to be dancing after previously watching the show from prison. She dedicated her dance to her girls still there. Even though her heart was in the dance, head judge Len Goodman said she didn't have the best posture. Bruno Tonioli said he saw potential and
Carrie Ann Inaba
said she was pleased that Lil' Kim let it all out. She opened the night with three 7's, giving her a grand total of 21.
Up next, former Go-Go's singer
Belinda Carlisle
with partner Jonathan Roberts. They danced the waltz, and it wasn't pretty. Bruno compared her to
Cloris Leachman
. Carrie Ann agreed that it wasn't great, but said it was not Cloris-esque. Len said that it was slightly awkward, but that he saw some grace and elegance in the mix. She received a 6 and two 5's, making her total for the night a 17.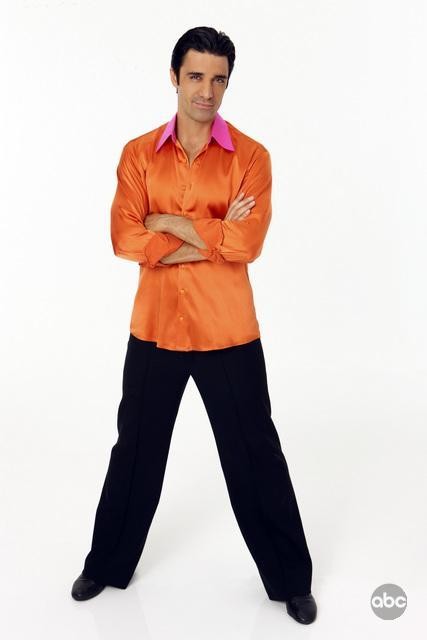 Lawrence Taylor, NFL Hall of Fame defensive end, has a lot of hype to live up to considering how well football players have done in the past; especially, since he's partnered with Edyta Sliwinska who took Jason Taylor to the finals a few seasons back. Lawrence said he thinks he's a better dancer than Jason, but he didn't prove it first time around. His cha cha cha was very jittery. Carrie Ann said he needed to make his moves bigger and get down and dirty. Bruno agreed that he needed to attack the dance like he would on the football field. Len had mostly compliments throughout the whole night saying that Lawrence had naturalness to his dancing. The judges gave him two 5's and a 6, rounding out to a 16 for the night.
Coming out of rehab was
Jackass
'
Steve-O
, partnered with Lacey Schwimmer. Even though the two are defined as "show rebels," the two took their waltz very seriously. Len said he was pleased to see Steve-O fully committed and expected much worse out of him. Bruno wanted to see more technique and Carrie Ann said she was oddly mesmerized by his dancing. The judges gave him two 6's and a 5 for a grand total of 17.
Highest Score Of The Evening
Sex And The City
's naked shower guy,
Gilles Marini
, turned on the cha cha cha heat with partner
Cheryl Burke
. Cheryl felt she had to work him extra hard since he didn't have a large fan base. Considering the show is mostly watched by women, I don't think he'll have too hard of a time finding fans. Plus, he danced fairly well. Carrie Ann loved it, but she's always a sucker for a gorgeous guy. Bruno said that he definitely knew how to strut his stuff. Len gave most of his compliments to Cheryl and said she did an excellent job with the choreography. He received the highest score of the evening, a 24.
While Jewel may not be competing against her husband anymore, country singer Chuck Wicks is still dancing with his girlfriend and former DWTS champ,
Julianne Hough
. Julianne decided to make her comeback to 'Dancing' this season after saying she was taking time off to focus on her music. I guess she didn't want anyone else dancing with her boyfriend. There seemed to be a little tension during practice, but the two danced well together. Bruno said Chuck seemed a little antsy on the dance floor. Len also agreed that he looked hectic, but had good footwork. Carrie Ann provided the best compliment, calling Chuck the most graceful man to be on the show in a long time. The real-life couple did get points deducted for a lift, however. They still ended up with an overall score of 20 for the night.
Playboy bunny Holly Madison only had a few days to rehearse, but her cha cha cha was pretty good. She was partnered with newcomer to Dancing With The Stars Dmitry Chaplin. He said she was going to be really good at bluffing her way through the dance. Carrie Ann said she had good charisma. Bruno said she was good to look at, but lost her timing. Len was subtle and just said it wasn't that bad. She received three 6's, giving her an 18.
Rodeo champion (and Jewel's husband) Ty Murray was also partnered with a newcomer, former
So You Think You Can Dance
alum Chelsie Hightower. Ty was completely out of his element, but he compared it to bull riding. "You're never ready; it's just your turn!" While he didn't get the lowest score, he was second to last with a 14. Bruno said he looked like he was in the army, Len was happy that he came out and tried and Carrie Ann called him a cute cowboy who just needed to let go and have some fun.
Shawn Johnson
proved herself to be an early favorite with her waltz. Mark Ballas helped her get over her gymnastic intentions and have "elegance and grace," according to Carrie Ann. Bruno said he was pleased with how refined she was for being so young. Len said it was very appealing, but she needed to work more on the fluidity of her arms and motions. She received a very high 23 for her performance.
Lowest Score Of The Evening
Super geek and co-founder of Apple, Steve Wozniak, tried to prove that nerds can dance. They may be able to dance, but they don't do it very well! Steve's cha cha cha with partner Karina Smirnoff gave him the lowest score of the evening - a 13. Len said it held his attention, but was only worthy of a 4. Bruno said he looked like a dancing Teletubby and also gave Steve a 4. Carrie Ann said he made her want to cheer for him and gave him his highest mark, a five.
The ballroom wasn't a joke for comedian and TV star
David Alan Grier
, even though partner Kym Johnson didn't get his sense of humor. Their waltz was nit-picked by the judges for having too many facial expressions. Bruno said he played too many characters and Len thought that his bum stuck out, but other than that it was commendable. He received a 19 to place him in the middle of the dancing pack.
Things were already getting complicated with
Denise Richards
and partner Maksim Chmerkovskiy. Apparently Denise and Maks didn't see eye to eye on teaching methods, but the two of them worked it out to create a decent cha cha cha. Carrie Ann said she looked terrified, but was proud of her. Len said she was too loose and needed to tone up. And Bruno said she definitely "had it," but didn't know what to do with it. She received three 6's for a total of 18.
And if anyone knows a thing or two about complicated, it's the last "star," Melissa Rycroft. She was partnered with Nancy O'Dell's original partner Tony Dovolani. All three judges thought she performed excellently given her short amount of practice time. They all agreed that it was Jason's (The Bachelor) loss and Dancing's gain. Bruno said she had grace and fluidity. Len pointed out that she must have some previous ballet training and Carrie Ann thought she did a wonderful job, but needed to connect more with the actual dance itself. She received the same score as Shawn Johnson, a 23.
This week's scores and viewer votes will be carried over into next week's performances.
Who do you think should be eliminated after round one? Let us know in the comments!
Story by
Beth Wickman
Starpulse contributing writer