Dwayne Johnson Teams Up With Michael Bay For 'Pain & Gain'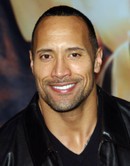 Action man Dwayne Johnson has confirmed reports he's teaming up with blockbuster moviemaker Michael Bay for a new comedy set in Miami, Florida.

The former wrestler is hoping to bring Mark Wahlberg onboard for the film, titled Pain & Gain - about two steroid-abusing bodybuilders caught up in an extortion ring.

Johnson tells WENN the project has been in the works for years.

He explains, "It's been a personal project Michael has had for about a decade now and we talked about doing it together seven or eight years ago, so it's nice that it's come to fruition. It's a true story."