Dwayne Johnson: Should He Go Back To Pro Wrestling?

In his upcoming film "
Tooth Fairy
,"
Dwayne Johnson
plays an intimidating hockey player who is punished for his senseless behavior and transformed into a tooth fairy. That's right, a tooth fairy. This is a far cry from the old days when Dwayne Johnson played a wrestling character who was brash, cocky, and laid the smack down on any WWE wrestler that crossed his path. Johnson has gone from being "The Rock" to now wearing a tutu like Tinker Bell. This new movie role doesn't sit well with some fans who have been following Johnson since his WWE days. With his last two kid-friendly movies ("
Race to Witch Mountain
" and "
Planet 51
"), fans want Dwayne to quit making movies, at least for a while, and make a return to Professional Wrestling. But should he go back to Pro Wrestling?
Dwayne Johnson is one of the greatest professional wrestlers to ever set foot in the squared circle. After a failed football career in the CFL and being passed up by the NFL, he followed in the footsteps of his father, WWE legend Rocky Johnson, and became a professional wrestler. Under the ring name Rocky Maivia, Dwayne slowly rose up the ranks of World Wrestling Entertainment. From a babyface to a heel to a modern day superhero, he became "
The Rock
" and was one of WWE's best wrestlers. He captured WWE championship belts and headlined WrestleManias, most notably WrestleMania X8 in a match with
Hulk Hogan
. Most of all, he captivated WWE audiences with his signature moves like the "Rock Bottom" and "People's Elbow." He also made audiences chant and cheer with his quips and one-liners like, "You wanna go one on one with the Great One," and "If you smell what the Rock is cooking!" The WWE hadn't seen a superstar so electrifying since Hulk Hogan.
Like Hulk Hogan, Dwayne decided to make a career change by going to Hollywood and becoming a movie star. His breakthrough performance as the Scorpion King in "
The Mummy Returns
" proved to Hollywood that he could act and had a future in film. He was cast in leading and starring roles alongside well known actors like
Vince Vaughn
. Dwayne's first leading role, based on "The Mummy" films, was "The Scorpion King." He then went on to star in "
The Rundown
," "
Walking Tall
," "
Be Cool
," and now the "Tooth Fairy." Although most of his films have been financially successful at the box office, his latest roles in Disney movies have fans scratching their heads. Johnson's fans are on message boards pleading him to stop these ridiculous kid movies and return to where he belongs.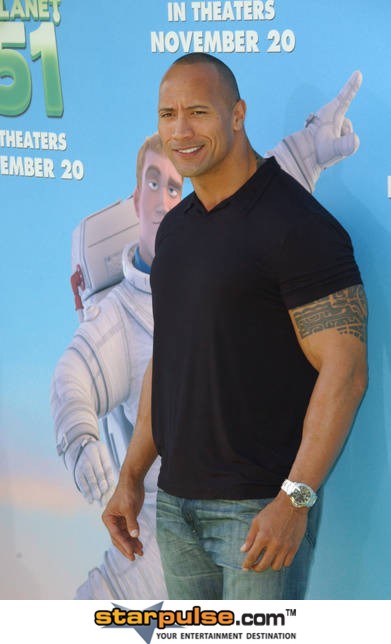 Image © PR Photos
If Johnson goes back to Pro Wrestling, he will give the WWE a major boost. World Wrestling Entertainment is a ratings machine on cable network, but the emergence of another wrestling organization - Total Nonstop Action (TNA), is slowly threatening the viewership of the WWE by pulling wrestling fans away from a predictable wrestling company onto an unpredictable wrestling company. Johnson's return would help crush any chance the TNA has of competing with the WWE. Also, he would bring back the showmanship and excitement the WWE has been lacking for a while now. Wrestlers like
John Cena
and DX have tried to fill that void, but it's just not the same without "The Rock." His return would, for the most part, bring back his fans who have called him a sellout for leaving the company. The millions and millions of Rock fans would support him once again.
On the other hand, if Dwayne decides to come back to wrestling, his movie career will be pushed back or even ruined. Even though it's fake, Professional Wrestling requires hard work and commitment. These wrestlers spend weeks, and even months on the road. Once he's back in the WWE, Dwayne may not have the time to do movies again. Or worse, he may suffer an injury that would prevent him from acting in an action film in the future. His return would also be met with resentment from other wrestlers who have bad-mouthed him in the past for leaving the business. Current WWE wrestler John Cena has had some negative things to say about Johnson's love, or lack thereof for the business. His return will create conflict in the locker room with some of the wrestlers, who have bigger egos than their muscles.
Whether Dwayne Johnson decides to return to Pro Wrestling or not, he will always be a WWE legend. But if he wants to make his wrestling fans happy, he should go back. But if he wants to remain a movie star, maybe he shouldn't. There have been many internet rumors about his possible return to the WWE this year. We shall wait and see. Meanwhile, "Tooth Fairy" comes out in theaters on Friday, January 22.
Story by
Maccorley Mathieu
Starpulse contributing writer