Dwayne Johnson On Kids And Aliens In 'Race To Witch Mountain'

During his WWE days as
The Rock, Dwayne Johnson
fought the biggest beefcakes
Vince McMahon
threw at him. Everybody smelled what The Rock was cooking. As a movie actor, it only takes a few little kids to take him down. From the same director as
The Game Plan
comes Johnson's newest film,
Race to Witch Mountain
.
In the remake/update of
Escape to Witch Mountain
, Johnson plays a Las Vegas cabbie protecting two alien children. "I was a big fan of the original," Johnson told the sci-fi press at last summer's San Diego Comic Con. "My little girl, who's six loves the original, and that was even before Andy [Fickman] came to me with the idea, so it was a very easy decision to make."
Perhaps The Rock's fans would expect something a little harder core from their hero, but Johnson assures them a PG rating hasn't toned him down. "In terms of how I pick projects, in general, it's just anything that I'm drawn to, and a good story. Good material is hard to come by. Everybody can attest to that. For me, personally, I look for a character that I can relate, and if the character can have a little bit of humor to him and have heart as well, that's important to me. With the exception of
Doom
, that was the only one that didn't."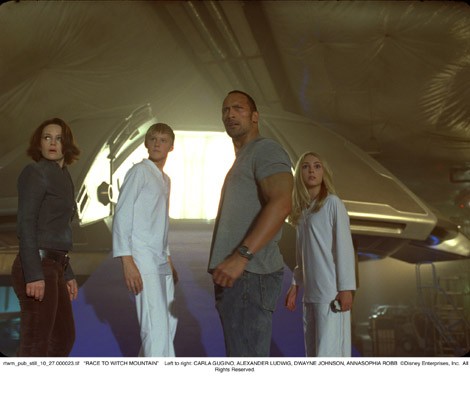 And aliens aren't just in the movies for Johnson. Of course, the real ones might not be precocious, good looking teenagers. "I think it'd be extremely arrogant to think that we're the only ones. I firmly do [believe] and I'm always fascinated and intrigued."
Race to Witch Mountain opens Friday March 13.
Story/Interview by
Fred Topel
Starpulse contributing writer
(Starpulse in Hollywood)
: Every week, Hollywood's biggest stars are meeting in the hot spots and Starpulse is there.