DVD Spotlight: 'Burn Notice' Season 6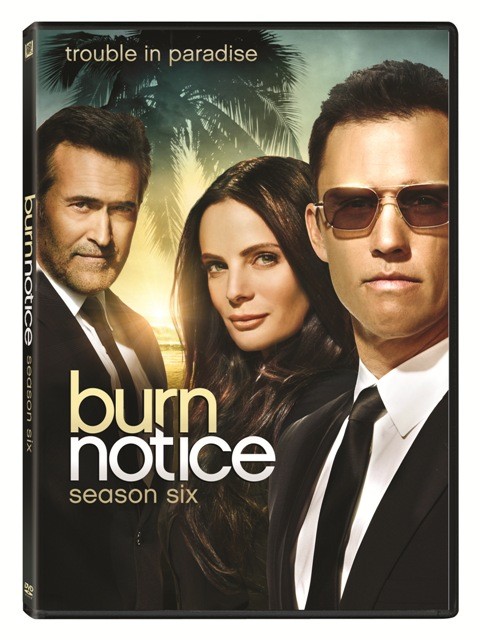 With Burn Notice's final season airing on USA, Fox Home Entertainment has sent the penultimate season out on DVD. Burn Notice: Season Six is not unlike Michael Westen himself - it's not flashy or whiz-bang, just a solid set that delivers all the things you'd expect a TV on DVD release to have.
No spoilers here for those who haven't caught up, but this season of the spy drama is where it begins to show its age just a little bit. Particularly when considering the season's major villain, it becomes obvious that Burn Notice has stretched its original mythology about as far as it possibly can. There's also something that doesn't click about all the antagonists in this season; whether it's the actors or the writing they were given, every one of them feels over the top, to varying degrees.
That's not to say that there's not anything worth watching here, though. Lauren Stamile returns as CIA agent Dani Pearce, and there's a little Third Watch reunion as Anthony Ruivivar plays the villain of the week in the second episode. That's before we get into the Burn Notice regular cast, who would still be entertaining if they were reading from the phone book. Even when the material isn't at its best, the chemistry between Jeffrey Donovan, Bruce Campbell, Gabrielle Anwar, Coby Bell and Sharon Gless is first-rate, and it's really the heart of the show.
As far as the DVD set itself goes, Burn Notice seasons have never been loaded with bonuses, and this one follows that tradition. The actual transfer of episodes is good, with eighteen episodes on six discs and including closed captioning for the hard of hearing. It's not as sharp as the show was on Blu-Ray or even in the HD broadcasts, but it's more than good enough. (And since some readers will inevitably ask: there is no Blu-Ray release of this season planned. For all the folks who clamor about TV on Blu-Ray, apparently they're not buying the BD releases, because there's been no Burn Notice on Blu outside of season two, and its fellow USA show White Collar hasn't been on BD after season one.)
The special features include the standard deleted scenes and gag reel, plus a cute little featurette called "Matt Nix Gets Burned," which pretends that the show creator gets his own "burn notice" while shooting the finale. (You can see a preview of that video here.) There's also one commentary, on the episode "Shock Wave," and featuring Matt Nix, Jeffrey Donovan, Bruce Campbell and episode director Renny Harlin. As is the case with many things, the presence of Campbell is the best thing about the track, but it's worth a listen for all Burners who want to know a little more about what makes the show tick.
Is it worth adding to your collection? Yes, if only for the episodes alone. Completists will want it to for their collection, newer fans should check it out to see the events which led up to this season's happenings, and really new fans...probably wouldn't be starting with season six anyway. As awesome as it would be to have a TV on DVD set  that has commentaries on every episode, and all sorts of crazy special features, that's not really the norm in the market anymore (if it ever was). Releases like Burn Notice give a nice added incentive beyond what you've seen on TV, and they preserve the episodes well. That's what's important, and in those two categories, Burn Notice: Season 6 hits the mark.
Fox Home Entertainment has also given BFTV two copies of Burn Notice: Season Six for our readers! Use the form here to enter my Burn Notice giveaway.
(c)2013 Brittany Frederick. Appears at Starpulse with permission. All rights reserved. No reproduction permitted. Visit my official website and follow me on Twitter at @tvbrittanyf.