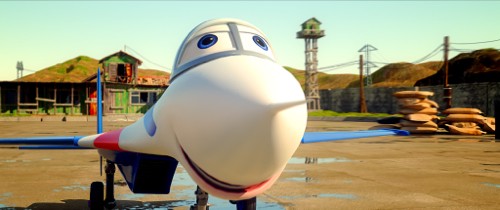 Planes that talk – animation time.  We're checking out the new to DVD flick "Wings" out now from Lionsgate Home Entertainment.  We review the flight plan below!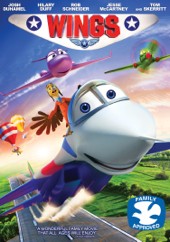 Title: "Wings"
   Grade: 1
   Cast: Josh Duhamel, Hilary Duff, Rob Schneider
   Director: Olga Lopato
   Rating: G
   Runtime: 88 minutes
   Release Company: Lionsgate Home Entertainment
   Website: www.lionsgatedvd.com
The Flick: "Wings" is hands own one of the worst, unfunniest and all around most horribly boring animated films I've had the unfortunate duty of having to sit through.  And not just because I'm an adult, kids will hate this too.  (Don't believe me – my four year old and I fell asleep mid movie at the same time!)  It's a weak stab at Pixar's "Cars" with Josh Duhamel providing the dull voice of fighter plane hopeful Ace, a seriously unfunny (that's saying something!) Rob Schneider as his bird sidekick Dodo, a totally forgettable Hillary Duff as pretty plane Windy and even Paul Newman Doc Hudson wannabe Tom Skerritt as the voice of the surly Colonel can't save the show.  Match that with a story that feels recycled and lame, animation that underwhelms and music and characters that create no mood or memorable moments and you've got a toon that should fly away forever.
Best Feature: At the very least the 'Four Bonus Miniscule Episodes' have some decent characters and animation.
Best Hidden Gem: For all Jesse McCartney fans (who is he exactly?!) there's a character and songs – doesn't help though.
Worth the Moola: Take flight this toon does not – more like crash and burn, huh Mav?