DVD Review: 'Tom Holland's Twisted Tales'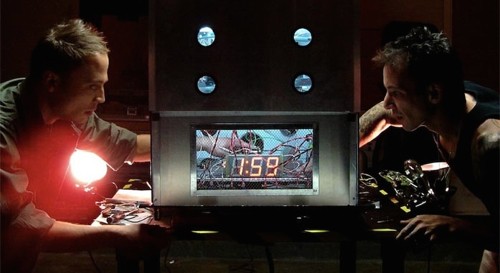 Ready to take on some scary stories via the guy who made "Fright Night" and "Child's Play?"  Then follow us as we check out the new to DVD flick "Tom Holland's Twisted Tales" out now from RLJ Home Entertainment.  The terror tales get tallied below!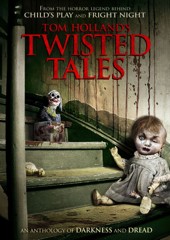 Title: "Tom Holland's Twisted Tales"
   Grade: 2 1/2
   Cast: Danielle Harris, William Forsythe, AJ Bowen
   Director: Tom Holland
   Rating: Not Rated
   Runtime: 142 minutes
   Release Company: RLJ Home Entertainment
   Website: www.us.RLJEntertainment.com
The Flick: With Tom Holland, the genius behind "Fright Night" and "Child's Play," as sort of a crypt keeper there's good, bad and ugly within his cache of these twisted tales.  On the good side there's efforts like 'Boom,' which showcases the underrated Noah Hathaway as a man who uses a bomb to find out the truth about the relationship between his wife and best friend, and 'To Hell With You,' where Danielle Harris as a scorned girlfriend goes toe-to-toe with William Forsythe's dark demon.  On the bad side there's 'Pizza Guy,' an interesting premise of calling up a demon that may be a local domino's deliverer that goes on way too long and 'Mongo's Magic Mirror' that has some of the cheesiest effects this side of a Lloyd Kaufman flick.  On the ugly side Tom while a brilliant writer/director does not make for a memorable host and giving away the whole story of each episode both in words and encapsulated clips isn't the way too go.  (Plus the segment 'Vampire Dance' is a shameful effort from the guy who made 'Fright Night!')  
Best Feature: Loved the 'Behind the Scenes on Boom' and hearing all about the prep of everything from Noah's performance to building the deadly device itself.
Best Hidden Gem: AJ Bowen makes the on-the-nose segment entitled 'Fred and His GPS' worth checking out.
Worth the Moola: I've seen worse, I've seen better – rental fare fright fans.